December 1, 2012
Champ: A New Book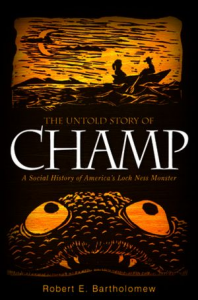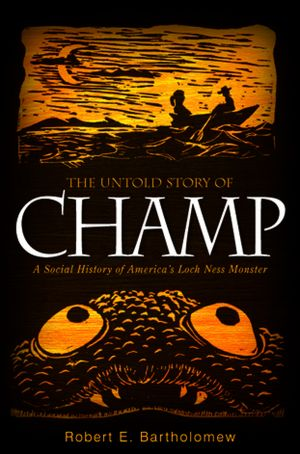 There's a new book on the shelves about the legendary lake monster, Champ.
Its title is The Untold Story of Champ: A Social History of America's Loch Ness Monster and the author is Robert E. Bartholomew.
From the publisher, State University of New York Press, we're told:
"This book presents the Champlain Monster like you have never seen him before. This warts and all biography of America's Loch Ness Monster by sociologist Robert Bartholomew breaks new ground by taking journalists to task for sloppy reporting, and criticizing local tourist bureaus for their singular focus on Champ Dollars. It presents the most complete history of Champ from Native American lore to the modern-day monster hunters; their egos, obsessions and behind-the-scenes squabbles. Also examined is whether the famous Mansi photo is a hoax, and weighs the evidence of the ultimate question: does Champ exist?"
A review:
"Bartholomew's study provides a meticulously researched overview of the historical context behind popular fascination with the Lake Champlain monster. The book effectively traces the vicissitudes of the creature's fame, rising and falling in accordance with external factors often unrelated to the ongoing string of perennial sightings. Bartholomew makes the subject come alive by carefully documenting the bitter rivalries between competing Champ researchers and by filling in the background stories for numerous Champ witnesses and enthusiasts. He shows that the creature is not simply a media sideshow, but a concept that has touched real people's lives very deeply."
— Dr. Peter Dendle, Associate Professor of English, Penn State University at Mont Alto and coeditor of The Ashgate Research Companion to Monsters and the Monstrous

About Nick Redfern
Punk music fan, Tennents Super and Carlsberg Special Brew beer fan, horror film fan, chocolate fan, like to wear black clothes, like to stay up late. Work as a writer.
Filed under Books, Champ/Lake Champlain Monster, Cryptozoology, Lair of the Beasts, Lake Monsters