Posted by: Nick Redfern on March 6th, 2015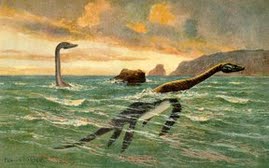 There's a new Mysterious Universe article from me, which begins like this:
"Make mention of Scottish lake monsters to most people and doing so will inevitably conjure up imagery of the world's most famous, unknown water beast, the Loch Ness Monster. It's a little known fact, however, that there are more than a few Scottish lakes with legends of diabolical creatures attached to them. While many of those stories are decidedly fragmentary in nature, one of them is not. Welcome to the world of Morag, the resident beasty (or, far more likely, beasties) of Loch Morar.
"At just over eleven and a half miles in length, the loch has the distinction of being the deepest body of freshwater in the British Isles, with a depth of just over 1,000 feet. Unlike Loch Ness, Loch Morar can boast of having practically clear water. It takes its name from the village of Morar, which is situated close by and specifically at the western side of the loch. It was the site of the Battle of Morar – a violent, death-filled confrontation between the Mackenzie and MacDonell clans, which occurred in 1602. As for the monster, Morag, the tales are many."

About Nick Redfern
Punk music fan, Tennents Super and Carlsberg Special Brew beer fan, horror film fan, chocolate fan, like to wear black clothes, like to stay up late. Work as a writer.