Posted by: Nick Redfern on October 25th, 2013
From the new article by Roland Watson (the author of The Water Horses of Loch Ness)…
"It's back to the series on land sightings of the Loch Ness Monster and the curious case of Margaret Munro. Before I start, recent comments on the cryptid believers on the Internet would suggest I am somehow about to preach a sermon from the book of Genesis. Since these cases are dismissed and treated like ancient texts, this is no surprise. However, this case happened in the lifetime of my own father … not thousands of years ago and even sceptical Loch Ness researchers admit she saw something. The question is what did she see that summer morning nearly 80 years ago?
"Having done battle with the creationists, the sceptics are now turning their sights on cryptid proponents. Let's see how they have typically applied science and critical thinking to this case. The Munro case is well known to Nessie followers and has its place in the various text books. To get right back to the original sources, the story from the Inverness Courier of June 5th 1934 is shown below…"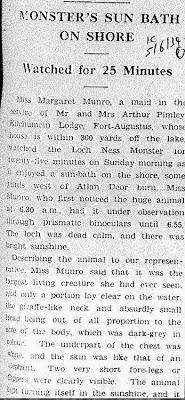 About Nick Redfern
Punk music fan, Tennents Super and Carlsberg Special Brew beer fan, horror film fan, chocolate fan, like to wear black clothes, like to stay up late. Work as a writer.