October 22, 2014
2nd Annual Boggy Creek Festival
The 2nd Annual Boggy Creek Festival is coming up this weekend Oct 24-25, 2014 in Fouke, Arkansas.  Fouke is, of course, home of the infamous Legend of Boggy Creek. The purpose of the event is to bring together the local community and to share information about the sasquatch-like creature that has been sighted in the area for over a century. The festival features local arts and crafts, music, entertainment, food vendors, and presentations by local bigfoot researchers.
Camping at the Miller County Fairgrounds will be open starting Friday Oct 24, while the main event will happen Sat Oct 25 along Fouke's main strip just off Highway 71 and Main Street. (Just come to Fouke and you can't miss it!)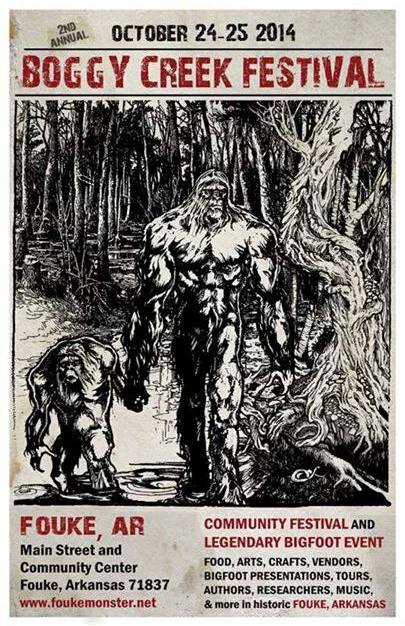 October 24-25, 2014
Main Street and Community Center (@ Highway 71)
Fouke, Arkansas 71837
https://goo.gl/maps/L7QYb
SCHEDULE OF EVENTS
9am – vendors open
10am – parade
11am – Boggy Creek tours begin
noon – karaoke contest
1pm – speakers begin (see times below)
CAMPING
The Miller County Fairgrounds, located at East Red Cut Road just off Highway 71 in Fouke, is available for tent camping. The fee is $10 per night. (No reservations necessary.)
HOTEL
If you're coming from out of town and prefer to stay in a hotel, you would need to stay in Texarkana. (Fouke does not have any motel/hotel accommodations.) The official hotel of the festival is:
Hampton Inn Texarkana
5302 Crossroads Parkway
Texarkana, Arkansas, 71854
870-774-4267
Tell them you are with the Boggy Creek Festival and they will give you a 15% discount!
BOGGY CREEK BUS TOURS
Bus tours will be available for purchase at the festival. The tours, guided by Beast of Boggy Creek author Lyle Blackburn, will visit historical sites in the Fouke area which pertain to The Legend of Boggy Creek movie and sightings of the Fouke Monster. The tour includes a stop at the infamous Boggy Creek, where participants can take photos near the waterway. Tours are $10 for adults, $5 for kids under 10. This is first come first serve since seating is limited, so buy your ticket at the festival early!
BIGFOOT SPEAKERS
Regional bigfoot researchers, authors, and television personalities will be doing presentations in the Community Center (East Red Cut Road). There is a single $10 fee to attend all speaker presentations.
SPEAKER INFO & PRESENTATION TITLES
Lyle Blackburn – The Continuing Story of the Fouke Monster (1:00 – 1:40)
Larry Parks & Jim Whitehead – Bigfoot Research Methods (1:50 – 2:30)
Robert Swain – Laughsquatch (2:40 – 3:20)
Marvin Leeper – Oklahoma's Boggy Creek (3:30 – 4:10)
Ken Gerhard – Arkansas Cryptids (4:20 – 5:00)
Craig Woolheater – Bigfoot in Texas? (5:10 – 5:50)
———————————————————————————————————-
For more details and info, visit FoukeMonster.net
See also:
Boggy Creek Festival 2014
Boggy Creek Festival in Fouke, Arkansas – Sept 28, 2013
#FoukeMonster #BoggyCreekFestival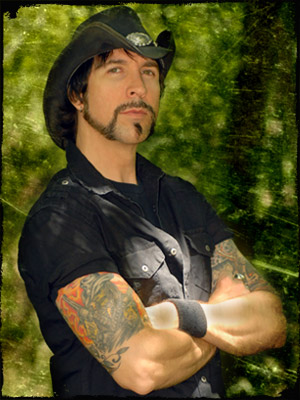 About Lyle Blackburn
Lyle Blackburn's research and writing on the subject of legendary creatures and unexplained phenomenon has been widely recognized as some of the best in the field of cryptozoology. His previous books, including The Beast of Boggy Creek and Momo: The Strange Case of the Missouri Monster, offer a balanced view of the subjects while delivering gripping accounts of real-life mysteries. Lyle is a frequent guest on radio programs such as Coast To Coast AM, and has appeared on television shows such as Monsters and Mysteries in America, Finding Bigfoot, and Strange Evidence. Lyle has also been featured in several award-winning documentary films, including Boggy Creek Monster and The Mothman of Point Pleasant. For more information, visit Lyle's website at: www.lyleblackburn.com
Filed under Bigfoot, Conferences, Cryptotourism, Cryptozoologists, Cryptozoology, Cryptozoology Conferences, Festivals, Monstro Bizarro, Movie Monsters, Pop Culture, Sasquatch