Posted by: Nick Redfern on June 10th, 2015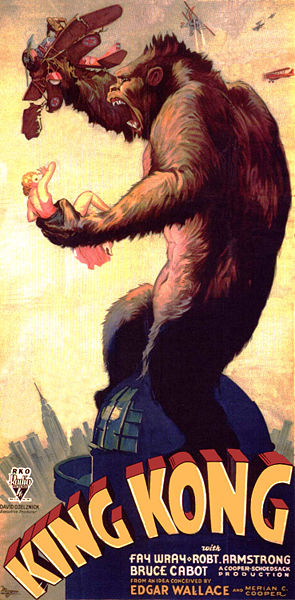 "There's no doubt, whatsoever, that the ultimate giant ape of the fictional variety is King Kong, whose escapades were famously portrayed in the acclaimed, almost legendary, 1933 movie of the same name. There can be very few people who are unaware of the plot-line: a filmmaker named Carl Denham (actor Robert Armstrong) sails to a mysterious island, along with a beautiful blond, Ann Darrow (played by Fay Wray), and various other characters, most of who end up suffering violent deaths at the hands of the natives, various dinosaurs, and Kong, himself.
"Kong meets his downfall, however, when he is captured, and shipped to New York – where, in a memorable finale, he battles to the death with the U.S. military, atop the Empire State Building, all in the name of his inter-species love for Ann. King Kong has been remade twice. While the 2005 version – starring Naomi Watts and Jack Black – stays true to the original (but lacks its charm), the 1976 remake, which starred Jeff Bridges and Jessica Lange, is undeniably awful and best avoided at all costs. King Kong not only provoked a couple of remakes, it also spawned a huge number of movies of the large and anomalous ape variety."
For the full story, click on this link, which will take you to a new Mysterious Universe article from me.

About Nick Redfern
Punk music fan, Tennents Super and Carlsberg Special Brew beer fan, horror film fan, chocolate fan, like to wear black clothes, like to stay up late. Work as a writer.