Posted by: Lyle Blackburn on June 18th, 2013
Novelist Eric S. Brown announced that Origin Releasing has acquired the motion picture rights to his "Bigfoot War" book series. The series, which started in 2010 with a novelette simply titled "Bigfoot War," has now grown to seven installments that include rampaging bigfoots, zombies, and even bigfoot zombies!
As a fan of the series (read my original review here), I've always thought this is the kind of material that just begs to be made into a movie. The question is, can they can translate Brown's masterful monster mayhem to the screen? If they can, it's gonna be one hell of a ride!
Casting has already begun and production is slated to start in late July for a planned 2014 release. A director has yet to be named.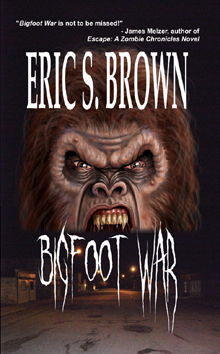 The series rundown:
Bigfoot War
Bigfoot War 2: Dead in the Woods
Bigfoot War 3: Food Chain
Bigfoot War 4: Legion
Bigfoot War: Frontier
Bigfoot War: Outbreak
Bigfoot War: The End

About Lyle Blackburn

Lyle Blackburn is an author, musician, and cryptid researcher from Texas. His investigative cryptozoology books, such as "The Beast of Boggy Creek," "Beyond Boggy Creek," and "Lizard Man," reflect his life-long fascination with legends and sighting reports of unknown creatures. During his research, Lyle has often explored the remote reaches of the southern U.S. in search of shadowy beasts said to inhabit the dense backwoods and swamplands of these areas.
Lyle has been heard on numerous radio programs, including Coast To Coast AM, and has appeared on television shows such as Monsters and Mysteries in America and Finding Bigfoot. Lyle is also a writer for the monthly horror magazine, Rue Morgue, and was recently featured in the documentary film, Boggy Creek Monster.
For more information, visit Lyle's website at: www.lyleblackburn.com