Posted by: Lyle Blackburn on September 16th, 2013
The city of Fouke invites you to the ultimate day of fun.  There will be activities and entertainment for all ages, including live music, arts, crafts, food vendors, a 5k run, and of course special events related to the Fouke Monster.
Special guests include Smokey Crabtree, Lyle Blackburn, Jerry Hestand, and the crew of the upcoming Bigfoot thriller, Skookum.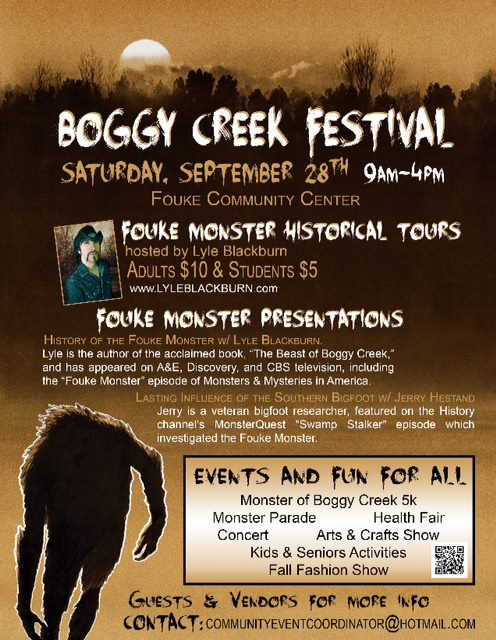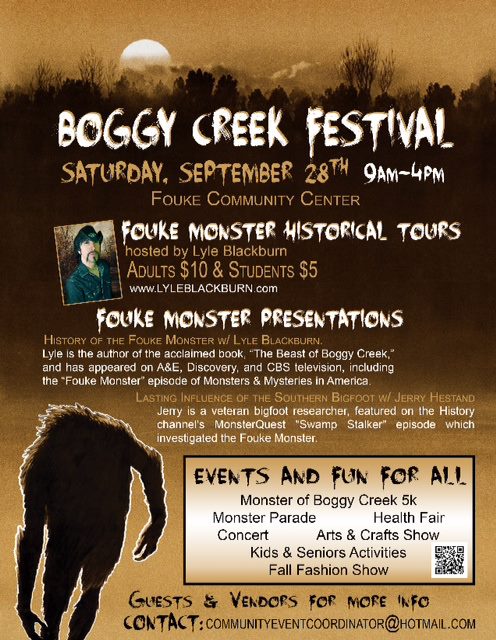 Presentations:
History of the Fouke Monster w/ Lyle Blackburn: Lyle is the author of the acclaimed book, "The Beast of Boggy Creek," and has appeared on A&E, Discovery, and CBS television, including the "Fouke Monster" episode of Monster & Mysteries in America.
Lasting Influence of the Southern Bigfoot w/ Jerry Hestand: Jerry is a veteran Bigfoot researcher, featured on the History Channel's MonsterQuest "Swamp Stalker" episode which investigated the Fouke Monster.
Smokey Crabtree will also be on hand to meet Bigfoot enthusiasts and sign his many great books including Smokey and the Fouke Monster.
Other Events:
Special screening of the Skookum movie trailer.
Fouke Monster Guided Tours w/ Lyle Blackburn.  This will be a special guided tour which will explore famous monster-related sites in the Fouke area.
10am, 2pm, and 4pm.  $10 adults, $5 kids.
The Legend of Boggy Creek will be screened at the end of the day.
Plus lots more!
Sat Sept 28, 9am – 4pm
Visit the official Boggy Creek Festival facebook event page for more information.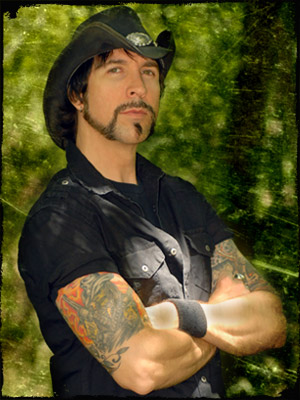 About Lyle Blackburn
Lyle Blackburn's research and writing on the subject of legendary creatures and unexplained phenomenon has been widely recognized as some of the best in the field of cryptozoology. His previous books, including The Beast of Boggy Creek and Momo: The Strange Case of the Missouri Monster, offer a balanced view of the subjects while delivering gripping accounts of real-life mysteries. Lyle is a frequent guest on radio programs such as Coast To Coast AM, and has appeared on television shows such as Monsters and Mysteries in America, Finding Bigfoot, and Strange Evidence. Lyle has also been featured in several award-winning documentary films, including Boggy Creek Monster and The Mothman of Point Pleasant. For more information, visit Lyle's website at: www.lyleblackburn.com