Posted by: Nick Redfern on April 22nd, 2012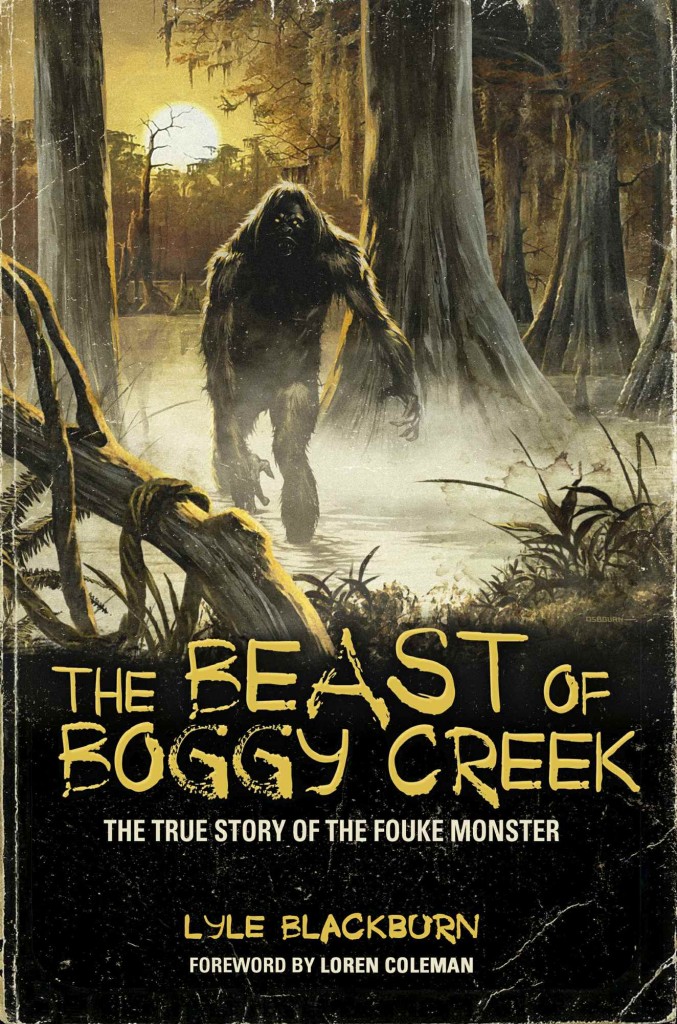 Given that I get so many Cryptozoology-themed books sent to me for review, I figured that why not allocate one day per week of my Cryptomundo posts to doing exactly that? So, that's precisely what I'm going to do from now on. And here goes with Number One, my thoughts and observations on what is without doubt, in my mind at least, the most significant cryptozoological publication of this year: Lyle Blackburn's The Beast of Boggy Creek: The True Story of the Fouke Monster, published by the good folks at Anomalist Books.
It's a title that if you haven't yet read it, then you really should. Moreover, it's about time the definitive book was written on the famous (or infamous) affair, and, as far as I am concerned, this is it. So, with that said, onwards.
For many people, and quite understandably, any mention of the Boggy Creek beast inevitably conjures up imagery and memories of Charles B. Pierce's 1972 production The Legend of Boggy Creek – a film that more than a few cryptozoologists cite as having had a major influence on them, in terms of prompting them to seek out the truth behind some of the monstrous mysteries of our world. And if you're one of them (or even if you're not), then you're in for a real treat, since The Beast of Boggy Creek covers just about every aspect of the story – in fact, fiction, on-screen entertainment, history, legend, folklore and more.
As an author myself, I know the importance of not only getting the data across to the reader, but doing so in a fashion that (hopefully!) entertains and informs, too. By that, I mean there's nothing worse than reading a story that provides all the relevant data, but which – in terms of writing style – is as dull as dishwater and as sterile as a neutered cat. Fortunately, Lyle's book is neither.
From the opening chapter, Lyle skilfully, and in an eerie, atmospheric style, takes us into the very heart of a time long gone – the early 1970s – and places as mysterious and eerie as they are captivating and picturesque: Southern Arkansas, the huge Sulphur River Bottoms, the town of Fouke, and, of course (where else?!) Boggy Creek. Then there's that legendary monster.
As Lyle makes clear to the reader in Chapter Two, it was May 1971 when all hell broke loose and the creature of the creek was born (although, as I'll demonstrate shortly, the mystery – Lyle's investigative digging shows – actually appears to date back much, much further). We are treated to a fine and captivating story filled with tales of frightened Fouke folk, of what almost turned into a home-invasion by a hairy horror, of people running around the darkened woods in search of the diabolical thing, of the police trying valiantly to keep things under control and preventing gun-toting citizens from mistakenly blowing the heads off each other, and of a local media enormously pleased with the sensational story in its very midst. And with the genie out of the bottle, so to speak, the monster – and the attendant controversy – were not going away anytime soon.
Lyle details the many and varied additional sightings and discoveries that sprung up in and around Fouke in the days, weeks and months that followed – namely, a large, hairy beast seen lumbering across the roads late at night, curious three-toed footprints found, strange howls and screams coming from the wooded shadows, and much more.
And, of course, we are exposed to the fascinating story of how the monster of Fouke came to make its way to the big-screen, courtesy of the aforementioned Charles B. Pierce. This section of the book, alone, makes for essential reading, as Lyle regales us with the ups and downs that dominated the funding, development, production and distribution of the film. But, more importantly, The Beast of Boggy Creek makes it acutely clear that without the people of Fouke itself, there would have been no movie – period. If you're a fan of Pierce's movie, you won't want to miss what Lyle has to say about it and what he has uncovered.
Very significantly, Lyle sets the record straight and reveals that, contrary to what many have assumed, (A) the presence of the beast, or beasts, was actually reported long before 1971 – albeit certainly not on the scale that occurred during the 1970s; and (B) sightings of the thing have continued up until pretty much the present day. In other words, while Boggy Creek monster hysteria was certainly at its height during the '70s, the encounters of that period only tell a part of the story.
Lyle doesn't shy away from controversy either – particularly so when it comes those curious (some have said highly suspicious) three-toed footprints and a certain, intriguing skeleton that plays a major role in the story and the development of its attendant legend. Lyle also addresses the nature of the beast itself at length and the theories posited to explain what it might really be: Bigfoot, circus-escapee, legend gone wild, and more are all part of the beastly mix as answers are diligently sought.
As for Lyle's conclusions…well, if you haven't yet read the book, that's for you to still find out. But, I will say that Lyle always keeps a careful and balanced head on his shoulders and left this reader far more than satisfied when it comes to addressing the nature of the puzzle. Packed with fine artwork and a wealth of black-and-white photos that undeniably capture the eerie essence of the area in which the beast has for so long lurked, Lyle Blackburn's The Beast of Boggy Creek is a book that one and all with an interest in Cryptozoology should read and own. A major, major addition to the field of monster-hunting.

About Nick Redfern
Punk music fan, Tennents Super and Carlsberg Special Brew beer fan, horror film fan, chocolate fan, like to wear black clothes, like to stay up late. Work as a writer.