Posted by: Dave Coleman on October 28th, 2012
TRENDSETTING. One of the reasons The Legend Of Boggy Creek was so impactful is that it was seen by so many people in a relatively brief window of time. The four-walling Pierce used was diabolically successful — the film grossed over $20 million in an era when many studio films didn't come close to that (and, all too often, still don't!). Since Pierce was releasing it and renting out the theaters, he kept a lion's share of the profits, too! This ad shows the typical 'four-wall' strategy — maximum ad buys in local cheap print and, at the same time, on local t.v. markets in off-hours and with heavy saturation. Today, every political PAC and SuperPAC works the same routines — only you don't get a cool cryptid movie for your efforts!

Mr. Cholly, as folks who knew Pierce called him, was a remarkable man. He also worked as a set dresser and designer throughout his career in Hollywood, in addition to writing, directing, starring, and producing indie feature films back home in the Deep South!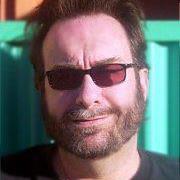 About Dave Coleman
Author of THE BIGFOOT FILMOGRAPHY, a new non-fiction reference guide and critique of Cine du Sasquatch. From McFarland in Fall 2011. Hardbound. Oversized.