Posted by: Lyle Blackburn on October 29th, 2013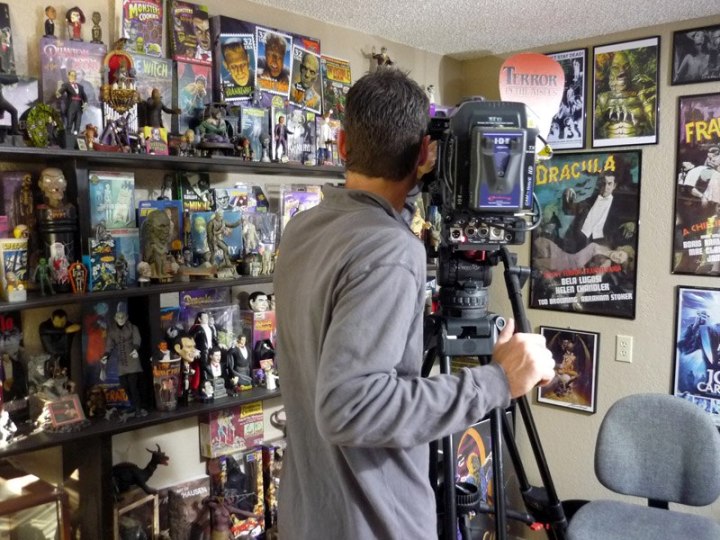 Looks like the episode of HGTV's "Home Strange Home" that features my house/monster collection will finally air on Halloween Oct 31 @ 1:00pm (CST). (It was filmed 1 year ago!) Episode 202, titled "Christmas, Jai, & Purple House." Here's more info.

Home, Strange Home is the place to see wild, wonderful and wacky homes! When it comes to houses, Home, Strange Home celebrates the unique… and the interesting people who live in them. In episode 202, Chuck travels to a floating home, the beautiful Purple House, and a home in Texas that is filled with monsters! Get VIP access into some of the strangest houses in the country, and meet the ingenious people who threw conventionalism to the wind to build their one-of-a-kind creations.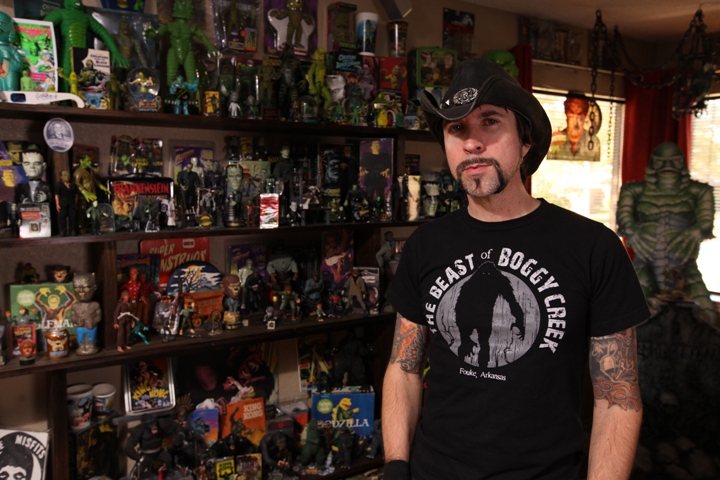 The show's producer, Sean Whitley, also the Writer/Director/Producer of Southern Fried Bigfoot, had this to say on Facebook:
1st shameless plug for this week (and this is subject to change at the last minute): after almost a year, HGTV has two never-before-seen episodes of "Home Strange Home" scheduled to premiere this Thurs, October 31 (Halloween)! Ep 201 features the incredible Technicolor Apartment in New York that has to be seen to be believed, and Ep 202 features the monster-themed home of author and cryptozoologist Lyle Blackburn. The two back-to-back episodes begin airing at 1:00 pm est/12:00 pm cst
And here's what Sean had to say on the production company's blog:
While on a recent Home, Strange Home shoot in Texas, author and musician Lyle Blackburn gave the crew a tour of his gigantic collection of monster memorabilia. While he does have a specific room dedicated to things that go bump in the night, his entire house is decorated in monster style.
Lyle's lifelong love of the spooky stuff has even expanded from movie monsters to ones that might actually exist. As a cryptozoologist – one who searches for unknown animals such as Bigfoot and the Loch Ness Monster – Lyle's delved into the dark woods in search of mysterious beasts, such as the Fouke Monster of Arkansas. While the crew didn't have any sightings of mysterious creatures on location, we did have a monstrously good shoot at Lyle's place.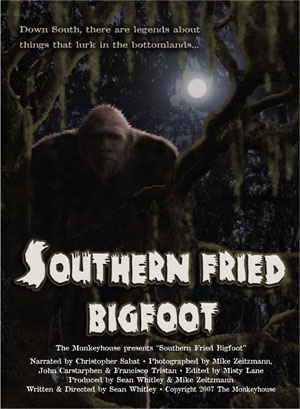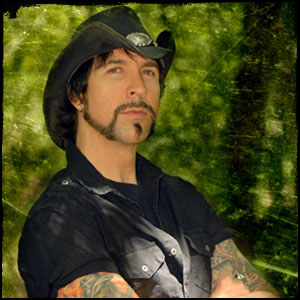 About Lyle Blackburn
Lyle Blackburn is an author and musician from Texas. His investigative cryptozoology books, "The Beast of Boggy Creek" and "Lizard Man," reflect his life-long fascination with legends and sighting reports of real-life 'monsters.' During his research, Lyle has often explored the remote reaches of the southern U.S. in search of shadowy creatures said to inhabit the dense backwoods and swamplands of these areas. Lyle is a featured speaker at cryptozoology and horror conferences around North America. He has been heard on numerous radio programs, including COAST TO COAST, and has appeared on television shows such as MONSTERS & MYSTERIES IN AMERICA, FINDING BIGFOOT, and the CBS SUNDAY MORNING SHOW. For more information, visit Lyle's website at: www.lyleblackburn.com