Posted by: Lyle Blackburn on March 20th, 2014
As most know, I'm a huge fan of The Legend of Boggy Creek.  I've written a book on the subject, collected relics from the film and Fouke area, and lectured about Fouke Monster history at events across the country.  So when I came across the opportunity to make The Legend of Boggy Creek movie poster come to life, so to speak, I jumped at the chance.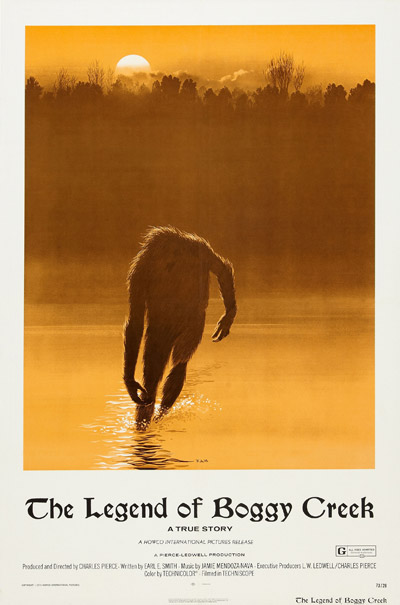 Here's how it all came about…
Following the release of my "Beast of Boggy Creek" book, I became friends with another fan of the movie – and hairy hominid enthusiast all around – Jean St. Jean.  Jean and I began conversing about our interest in Boggy Creek, at which time I learned that Jean was a very renown sculptor; an artist who has created the base sculptures for many popular monsters toys and statues.  As a collector of horror movie toys and memorabilia, I was very impressed, especially since Jean is the man behind several of the monster figures I have in my collection (which, incidentally, was featured on the HGTV show "Home Strange Home").  Jean's resume includes Creature From the Black Lagoon, Son of Frankenstein, Wolfman, Phantom of the Opera, and others for Diamond Select; Tarman and Elvira for Amok Time Toys; Jason, Michael Myers, and Leatherface for Mezco Toys; and many more.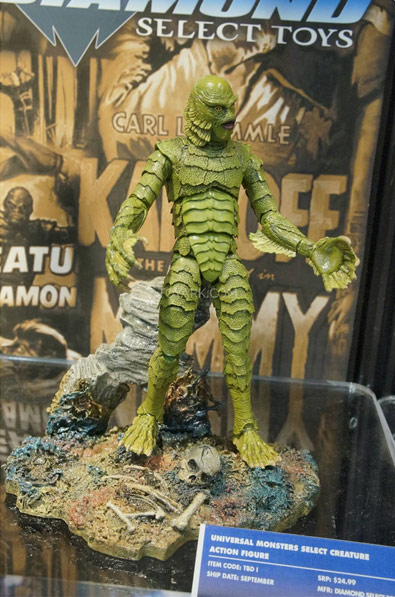 After conversing about monster toys and The Legend of Boggy Creek, Jean and I decided it would be cool to create some kind of collectible figure based on the original movie poster art.  I wasn't sure what I would end up doing with the figure, but with Jean's collaboration, I knew I couldn't pass up the opportunity to at least have one for my own Boggy Creek collection.  So after some discussion, Jean began the sculpture which we decided should be a 3D version of the creature seen in the classic movie poster.  When Jean finished the piece, he sent me some photos.  I was blown away!  I was looking at a miniature version of the Fouke Monster; a vivid interpretation of the creature behind that classic, shadowy silhouette.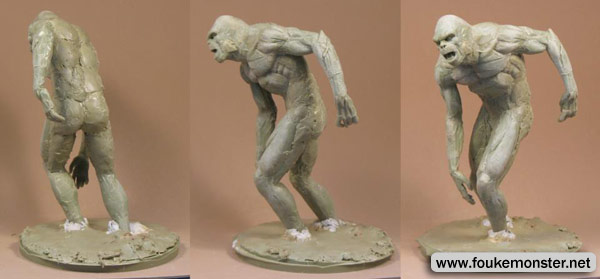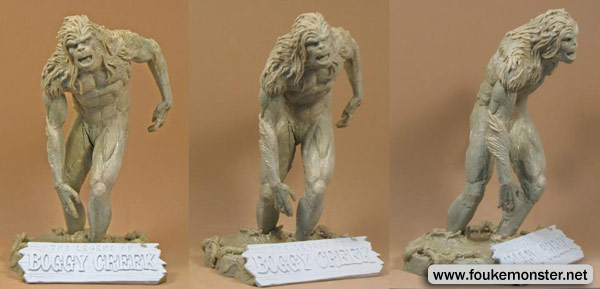 Next, Jean cast a few prototypes in resin and I painted one for my personal collection.  I'm more of a writer than a painter, but the figure has so much textural detail it was not difficult to make it look fantastic with a few base coats and some dry brushing.   Here's the result:
After posting a photo of it on Facebook, people began asking how they could get one for themselves.  I definitely wanted to give them the opportunity, but this would be no easy feat.  Mass producing a toy or statue requires very expensive tooling, a willing manufacturer, and some considerable financial investment up front.  I spoke to several potential manufacturers, but in the end I could not afford to do it on my own.  That's when John Diaz of Resin Realities stepped in.
Resin Realities is a small company that produces "garage kits."  For those not into model kit building, a "garage kit" is essentially a resin model kit or statue cast in very small quantities, literally in a garage.  These are usually recognizable, but oftentimes obscure characters from famous movies… many of which would never be produced in a mass-market scenario.  As a fan of these type things, I had met John several years ago at a model kit show in St. Louis and we remained in contact ever since.  John also shares a keen interest in cryptozoological creatures and has even produced an excellent Sasquatch garage kit through his Resin Realities company.  So when he offered to produce my Legend of Boggy Creek figure as a resin model kit and statue, it was a perfect match.
The result has been the creation of a limited edition Legend of Boggy Creek figure which is available as a basic do-it-yourself model kit and as a painted statue.  The painted version comes in two finishes, faux bronze and fully painted, both of which look great.   The figure is roughly 1/8 scale and about 8-inches tall (the same scale as Aurora monster models of the '60s and '70s!).  They are cast in solid resin for a durable and lasting product.  Because the figure is being produced by hand in such small quantities, it does unfortunately end up being fairly expensive.  But the quality of the workmanship and limited run makes it a true and rare collectible for fans of The Legend of Boggy Creek and monster movies alike.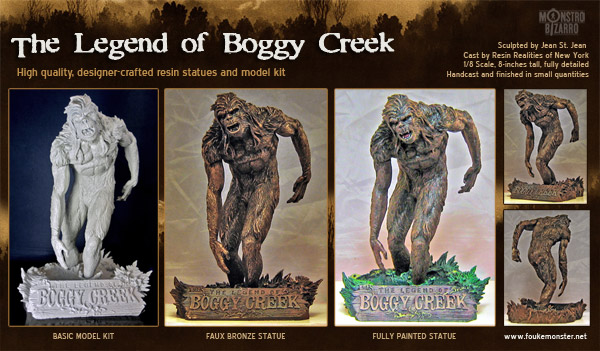 Below are some photos of the various versions, all of which are very limited.  The number being produced is 50 units of each type, or until the original mold is spent.  I will typically have two or three available at each of my speaking events, but for the most part these are available through my Fouke Monster website until they're gone.
Long live the legend!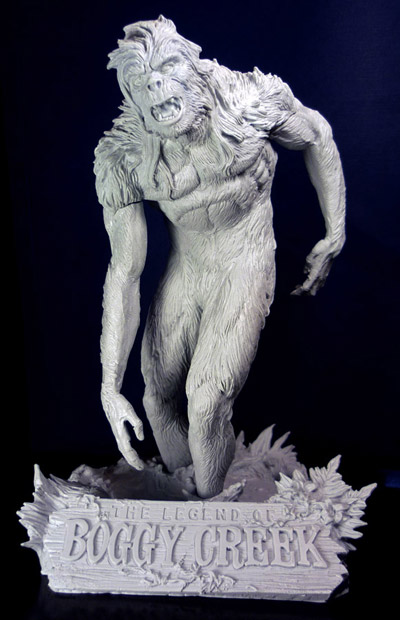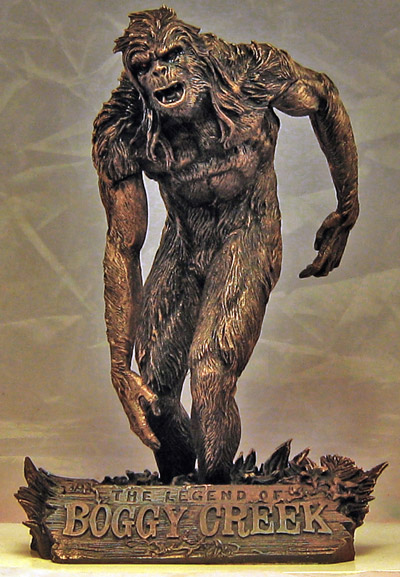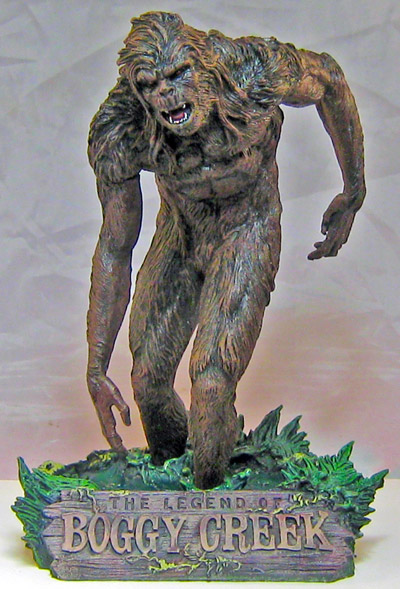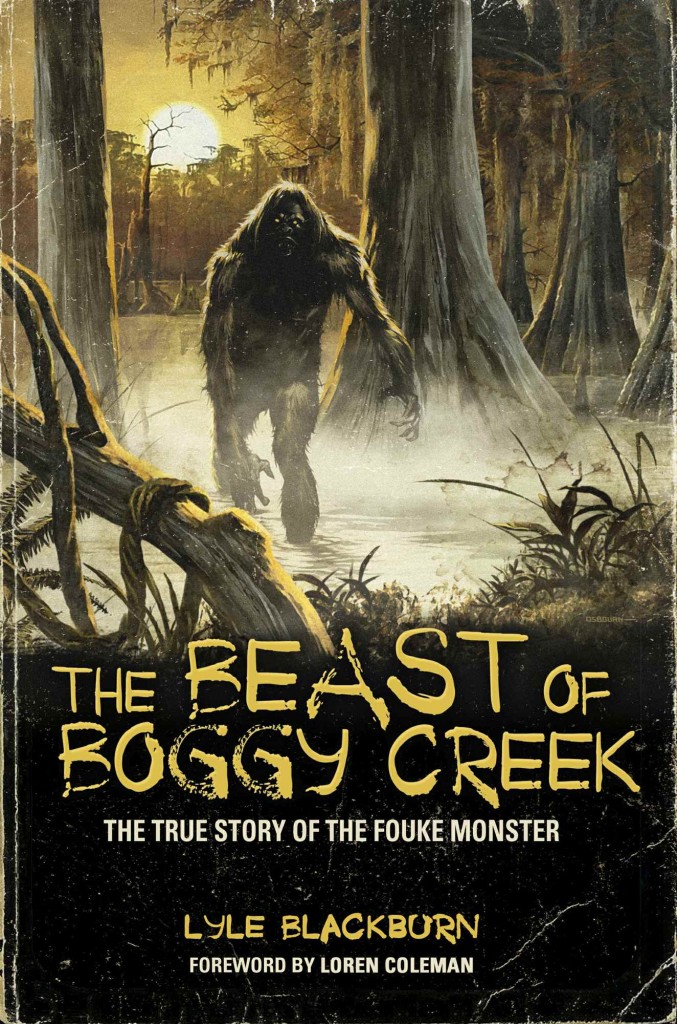 About Lyle Blackburn
Lyle Blackburn is an author, musician, and cryptid investigator from Texas. For more information, visit Lyle's website at: www.lyleblackburn.com