Posted by: Karl Shuker on July 19th, 2015
The year 1995 saw the publication of two books of mine, one of which was Dragons: A Natural History – a lavishly-illustrated volume in which I concentrated upon providing a series of vibrant, lyrical retellings of famous and lesser-known dragon myths, legends, and folktales from around the world, arranged into chapters focusing upon different morphological and natural history categories of dragon, and interspersed throughout with smatterings of cryptozoological content and snippets of other dragon-related background information. Over the years, it was translated into over a dozen languages, has been reissued many times, and, judging from its huge sales worldwide, may well be the most successful non-fiction book on dragons ever published. So how could I follow that?  And yet I did want to follow it, because I'd always planned to write an extremely comprehensive review of dragons in their entirety – not just their myths, morphology, and natural history, but also providing in-depth coverages of the real-life and possible cryptozoological influences responsible for engendering dragons, and these mythical monsters' omnipresence in human culture, both ancient and modern – from religion and the mystic arts to the visual arts and literature, fashion to sport, tattoos to compute games, rock music to dream interpretation, and mush more besides.
After extensive research, I finally wrote my long-planned second dragons book – entitled Dragons in Zoology, Cryptozoology, and Culture – and saw it published in 2013 by Coachwhip Publications of Greenville, Ohio. It constitutes one of the most comprehensive dragon-themed factual books ever published, is sumptuously illustrated throughout in full colour, and very recently I was delighted to see not one but two positive, encouraging reviews of it.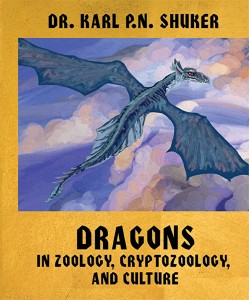 So for those of you who haven't read my new dragons book and may be interested in doing so, please click here to learn more about it by reading these two reviews, which I've uploaded onto my ShukerNature blog.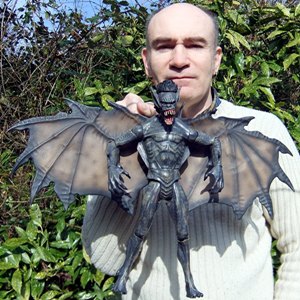 About Karl Shuker
My name is Dr Karl P.N. Shuker. I am a zoologist (BSc & PhD), media consultant, and the author of 25 books and hundreds of articles, specialising in cryptozoology and animal mythology. I have a BSc (Honours) degree in pure zoology from the University of Leeds (U.K.), and a PhD in zoology and comparative physiology from the University of Birmingham (U.K.). I have acted jointly as consultant and major contributor to three multi-author volumes on cryptozoology and other mysterious phenomena. I am the Life Sciences Consultant to The Guinness Book of Records/Guinness World Records (Guinness: London, 1997-present day), and was consultant to Monsters (Lorenz Books: London, 2001), as well as a contributor to Mysteries of the Deep (Llewellyn: St Paul, 1998), Guinness Amazing Future (Guinness: London, 1999), The Earth (Channel 4 Books: London, 2000), and Chambers Dictionary of the Unexplained (Chambers: London, 2007). I appear regularly on television & radio, was a consultant for the Discovery TV series Into the Unknown, and a question setter for the BBC's quiz show Mastermind. I am a Scientific Fellow of the Zoological Society of London, a Fellow of the Royal Entomological Society, a Member of the Society of Authors, and the Cryptozoology Consultant for the Centre for Fortean Zoology (CFZ). I have written articles for numerous publications, including Fortean Times, The X Factor, Paranormal Magazine, FATE, Strange Magazine, Prediction, Beyond, Uri Geller's Encounters, Phenomena, Alien Encounters, Wild About Animals, All About Cats, All About Dogs, Cat World, etc. In 2005, I was honoured by the naming of a new species of loriciferan invertebrate after me - Pliciloricus shukeri.