Posted by: Guy Edwards on October 1st, 2011

The Hollywood Theatre is a local Portland, Oregon historical landmark and an organization whose mission is to entertain, inspire, educate and connect the community through the art of film. In a press release they announced an event tied to the screening of the Bigfoot documentary, Not your typical Bigfoot Movie.
The event is called "Tracking Truth" and includes a panel including Thom Powell, author of The Locals and Shady Neighbors and yours truly, Guy Edwards, the very editor of Bigfoot Lunch Club.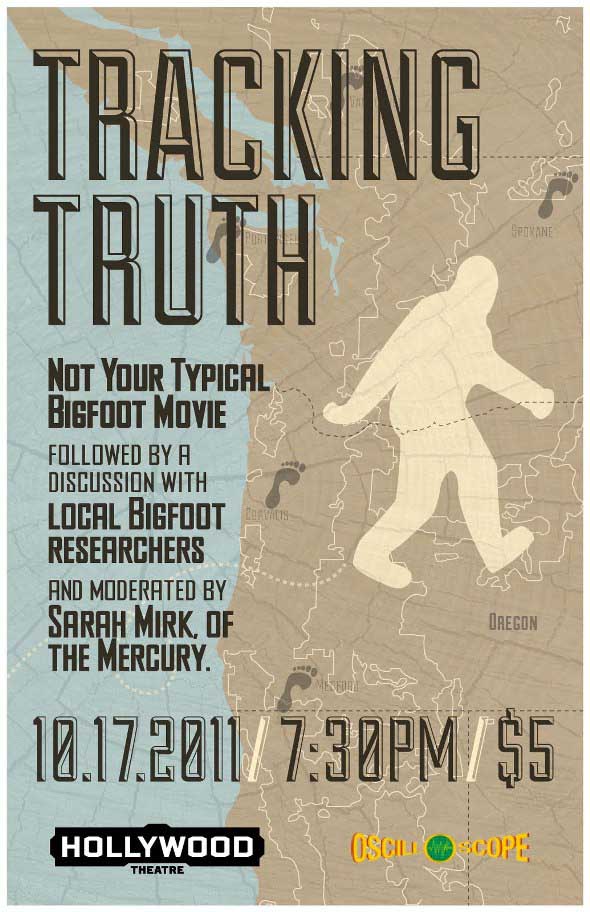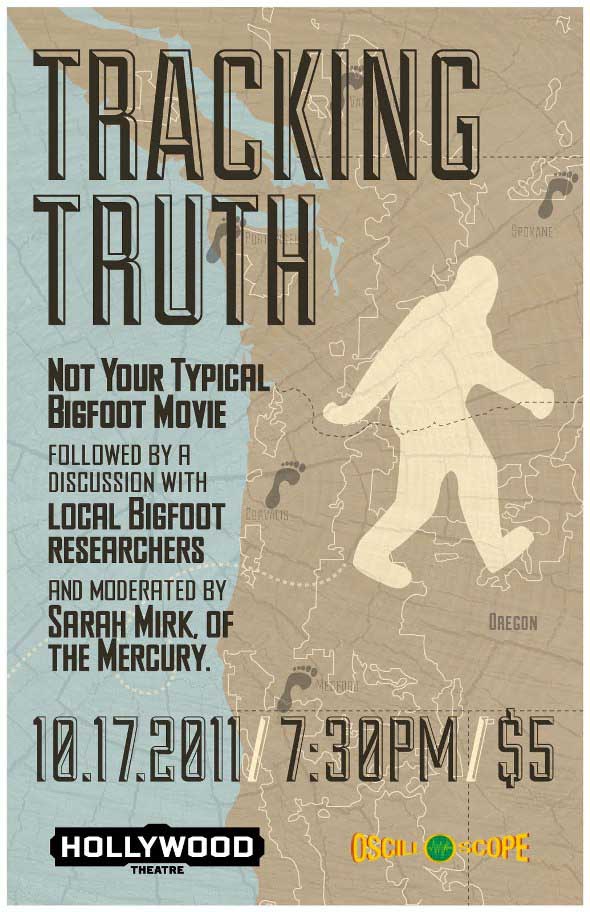 If any Cryptomundians are in the Portland Area on October 17th we would love to see you there. Below is the official Press Release.
HOLLYWOOD THEATRE

**FOR IMMEDIATE RELEASE**

HOLLYWOOD THEATRE AND OSCILLOSCOPE'S CIRCLE OF TRUST PRESENT: NOT YOUR TYPICAL BIGFOOT MOVIE

(Portland, OR), Sept. 16, 2011 – For one night only the Hollywood Theatre brings you Not Your Typical Bigfoot Movie, followed by a special panel of local Bigfoot researchers and moderated by Sarah Mirk of the Mercury. The panel will feature Thom Powell, author of "The Shady Neighbors," and Guy Edwards, founder and editor of the Bigfoot Lunch Club, and there could even be prizes for audience members!

Director Jay Delaney produced a short about Dallas and Wayne ten years ago, and became so engrossed he had to come back and make a feature. Through Dallas, Wayne, and their amateur Bigfoot research, Delaney explores and explodes the American Dream; the result is a film "masterful for the dignity it infuses into the duo's lives" that offers new perspective on unusual passions. A compelling documentary about the trials and triumphs of life in the Appalachian foot hills, the documentary portrays the power of a dream to forge friendships that provide hope and meaning to transcend the harsh realities of a dying steel town. Oh, and Sasquatch, too.

"Not Your Typical Bigfoot Movie" has received multiple awards, including Official Selection at SXSW Film Festival, the Independent Film Festival of Boston, and the Athens International Film Festival. The Hollywood Theatre screening will feature special guest experts, and some surprise elements as well!

WHEN: October 17 at 7:30pm
WHERE: The Hollywood Theatre, 4122 NE Sandy Blvd.
TICKETS: $5

About The Hollywood Theatre:
For the last 14 years the Hollywood Theatre has earned a national reputation for its unique combination of award-winning film programming, cutting edge educational programs supported in part by LAIKA (an Oscar winning studio), and fiscal sponsorship services for professional filmmakers. Each year the Hollywood Theatre screens close to 300 of the best films from all over the world, provides educational opportunities for over 2,000 young people and supports more than 20 Oregon-based, independent film projects.

For more information contact:
Justen Harn
justen@hollywoodtheatre.org
503-493-1128
You can read Bigfoot Lunch Club's entire coverage of Not Your Typical Bigfoot Movie

About Guy Edwards
Psychology reduces to biology, all biology to chemistry, chemistry to physics, and finally physics to mathematical logic. Guy Edwards is host of the Portland, OR event HopsSquatch.com.