Posted by: Dave Coleman on May 10th, 2013
'War of the Gargantuas' (1966) is a perennial fave for late-night t.v. addicts from the 1970s, where it played in heavy rotation courtesy of Henry Saperstein's importing of Toho efforts when no one else was interested. Though often poorly dubbed owing to Saperstein's limited budgets, at least these films were shown theatrically and then on to television as a result of his efforts.
Ishirō Honda directing on the set of 'War of the Gargantuas.'
Behind-the-scenes with two tired but happy Gargantuan-sized actors.
Russ Tamblyn (upon hearing Brown Gargantua has just joined the titanic battle): "Oh, great. Just what I need!" LOL! He's actually one of the reasons I love WOTG so much… he looks so depressed and seems to be sleepwalking through the role, but that low key energy and sardonic snicker he gives from time to time? It makes it a Thinking Man's kaiju perf, imho!
'War of the Gargantuas' aka 'Katango' in Italian release version.
Makes a great double bill with either 'Frankenstein Conquers the World' or 'King Kong vs. Godzilla,' imho. Happy kaiju viewing spree!
Young viewers in 1966 get a surprise visit while touring Toho Studios when they meet n' greet (but hopefully not get eaten by!) an awesome Gargantua. "Are you a good/brown Gargantua, or a bad/green Gargantua?" Glenda the Witch of Kaiju was heard to query.
The moment where the woman singer is eaten by Green Gargantua while she's singing on the boat? That moment horrified me as a kid, especially the way Honda showed her chewed up, spat out, bloodied clothing post consumption!
The words get stuck in my brain unless I now expunge this song, and so:
Rare, English language trailer created by Toho for 'War of the Gargantuas.' This was not used once Henry Saperstein imported and re-dubbed the film, even though Toho prepared an English version of the film that is largely unseen.
I like the scale of the creatures in this one. Rather than keep the usual Godzilla '400 feet tall' scale of most kaiju films, Honda experimented with the Gargantuas, making them tall, but within a range of scale more akin to the original King Kong than the skyscraper-sized Gojira. It made the creatures more terrifying in one sense, in that they seemed more aware of the humans around them as prey, rather than ants that were trampled under foot. Honda took full advantage of this in his compositions.
"An Important Film of Our Age! … Filmed In Absolute Realism!" I wish today's trailers were so bold with their ad copy!
Yeah, that whole reel is nothing but those awesome lightning cannons crackling, and the trees getting zapped, and the soundtrack just plays the hell out of the Godzilla theme music, non-stop! Grumpy Godzilla sez: Best. Sequence. EVER!

Typically, those growls were done with backwards-run tracks of lions and elephants, etc. I so agree re: growls and even sound effects. The Toho sound effects library is really awesome, what with the signature sounds for Ghidrah, Mothra, etc. Even Godzilla's roar is so distinctive!
It's not just us, nor our generation, either! Here Tim Burton reveals it's his 2-year-old daughter's all-time fave! And he loved it as a kid, too!
Akira Ifukube's awesome, expanded edition score used for 'War of the Gargantuas' will stay hooked in your frontal lobes like an errant but well-timed fishing hook on a bad day at the pier. Better hope ya don't hook any Green Gargantuas while you're at it, sport! Play this LOUDLY to remind those around you: it's Fried-day, damn it!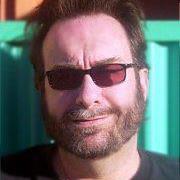 Dave Coleman – has written 53 posts on this site.
Author of THE BIGFOOT FILMOGRAPHY, a new non-fiction reference guide and critique of Cine du Sasquatch. From McFarland in Fall 2011. Hardbound. Oversized.