December 31, 2014
The Curious Case of the Bottled Sea Serpent
On 31 January 1930, the Danish research vessel Dana unexpectedly captured an exceptionally long eel larva (leptocephalus) at a depth of about 900 ft, west of the Agulhas Bank and south of the Cape of Good Hope, South Africa. Whereas leptocephali of the common European eel Anguilla anguilla measure a mere 3 in long at most, and even those of the formidable conger eel Conger conger only reach 4 in, the Dana's remarkable specimen was a colossal 6 ft 1.5 in! This in itself was quite staggering, but its implications were even more astounding.

Adult super eel as envisaged by artist Thomas Finley ((c) Thomas Finley)
During their metamorphosis from leptocephalus to adult, true eels (anguillids) greatly increase their total length – the precise index of growth varying between species. In the common eel, the increase is generally eighteen-fold, producing adults measuring around 4.5 ft; in the conger, it can be as much as thirty-fold, yielding adults up to 10 ft. Consequently, as conceded by Dana ichthyologist Dr Anton Bruun, in the case of the Dana leptocephalus, which was already 6 ft long, there existed the incredible possibility that this would have metamorphosed into a monstrous adult measuring anything between 108-180 ft, with a length of 50 ft seemingly the very minimum (less than a nine-fold increase) that even the most prudent estimator might expect of such a larva! Needless to say, any species of eel attaining such stupendous lengths as these would make an excellent candidate for those sea serpents grouped by veteran cryptozoologist Dr Bernard Heuvelmans in his 'super eel' category within his famous postulated system of sea serpent classification.
Further details can be obtained here on my ShukerNature blog.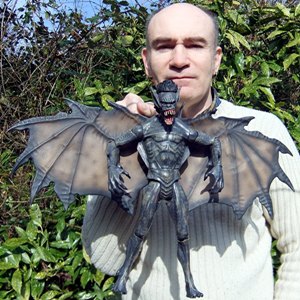 About Karl Shuker
My name is Dr Karl P.N. Shuker. I am a zoologist (BSc & PhD), media consultant, and the author of 25 books and hundreds of articles, specialising in cryptozoology and animal mythology. I have a BSc (Honours) degree in pure zoology from the University of Leeds (U.K.), and a PhD in zoology and comparative physiology from the University of Birmingham (U.K.). I have acted jointly as consultant and major contributor to three multi-author volumes on cryptozoology and other mysterious phenomena. I am the Life Sciences Consultant to The Guinness Book of Records/Guinness World Records (Guinness: London, 1997-present day), and was consultant to Monsters (Lorenz Books: London, 2001), as well as a contributor to Mysteries of the Deep (Llewellyn: St Paul, 1998), Guinness Amazing Future (Guinness: London, 1999), The Earth (Channel 4 Books: London, 2000), and Chambers Dictionary of the Unexplained (Chambers: London, 2007). I appear regularly on television & radio, was a consultant for the Discovery TV series Into the Unknown, and a question setter for the BBC's quiz show Mastermind. I am a Scientific Fellow of the Zoological Society of London, a Fellow of the Royal Entomological Society, a Member of the Society of Authors, and the Cryptozoology Consultant for the Centre for Fortean Zoology (CFZ). I have written articles for numerous publications, including Fortean Times, The X Factor, Paranormal Magazine, FATE, Strange Magazine, Prediction, Beyond, Uri Geller's Encounters, Phenomena, Alien Encounters, Wild About Animals, All About Cats, All About Dogs, Cat World, etc. In 2005, I was honoured by the naming of a new species of loriciferan invertebrate after me - Pliciloricus shukeri.
Filed under Cryptozoology, Evidence, Museums, New Species, Sea Serpents, ShukerNature