Posted by: Craig Woolheater on July 30th, 2016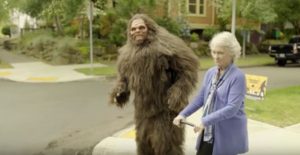 While it's generally agreed that the Pacific Northwest is Bigfoot's preferred stomping ground (sorry, Pennsylvania), there's never been solid consensus about exact whereabouts of the shaggy recluse's primary residence.
Some believe he lives in the woods outside of Sedro-Wooley, a "Twin Peaks"-y logging town roughly halfway between Seattle and the Canadian border.
Northern Californians like to claim Bigfoot as their own, which is understandable given that a sizable stretch of California State Route 96 passing through Klamath National Forest has been designated as a scenic byway named in his honor.
What's more, a sizable number of British Columbians are convinced the elusive beast is a proud Canadian who spends his free time on the shores on Lake Okanagan shootin' the breeze with Ogopogo.
Read: Sasquatch Crossing »
---