Posted by: Lyle Blackburn on July 9th, 2013
BIGFOOT ROADTRIP
Featuring: Cliff Barackman, Craig Flipy
Released: 2013
Format: DVD
Running Time: 89 minutes + extras
Sure, you could grab the family, load up the mini van and make a run down old Route 66.  But with the high price of gas these days, might I suggest taking a Bigfoot Roadtrip instead.  All you need is a DVD player and some popcorn.
Released by Cliff Barackman through his North American Bigfoot website, Bigfoot Roadtrip is the brainchild of Barackman and his long-time friend Craig Flipy.  While Flipy's off-beat talents are only now made public with the release of the DVD, bigfooters and reality show viewers alike will recognize Barackman as one of the cast members on the popular Animal Planet series, Finding Bigfoot.  Beyond the television role, however, Barackman's experience with sasquatch goes back many years, docking countless hours in the Pacific Northwest searching for the elusive creatures.  So when Barackman finally found some time between television shoots, where did he go?  Researching bigfoot, of course.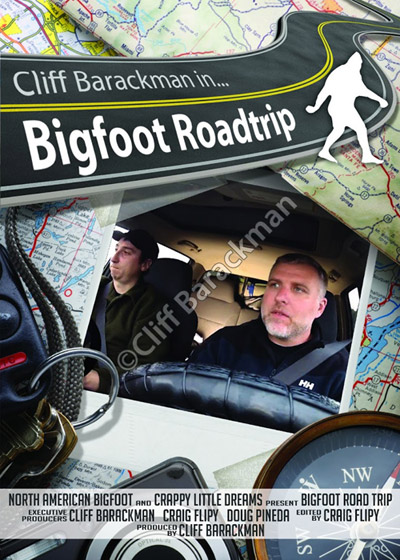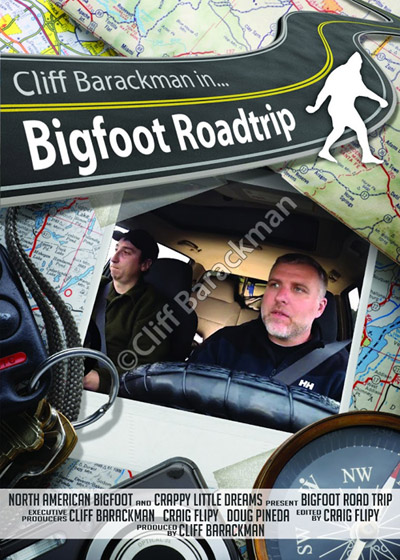 Bigfoot Roadtrip is a video travelog of Barackman and Flipy's adventures as they hike into the remote woods of Mount St. Helens, investigate some promising bigfoot tracks, analyse a photo, and pay a visit to the research group known as the Olympic Project.  To add some off-beat entertainment, the sections are followed up by comedic commentary from a couple of sasquatch puppets.  (Did he say puppets??)  Yes, puppets.  While this may sound unusual for a documentary-type bigfoot program, it does provide a few laughs along the way.
Highlights include a visit to a woman in Elma, Washington who has a never-before-seen cast from the Grays Harbor bigfoot trackway find of 1982, conversations with Derek Randles and Dr. Jeff Meldrum, and an excellent segment on the discovery of the London Trackway.  Bonus features include a gallery of the London casts, an interview with the late Scott McClean, and a segment called "Driving with Bobo."
Bigfoot Roadtrip is both entertaining and informative, and should appeal to most seasoned bigfooters as well as those with a more casual interest in the subject.  Admittedly, the video does have a rather silly approach with some zany editing and the aforementioned puppets, but overall, manages to offer serious insight into some well-known bigfoot events, along with new evidence that has never been made public.
To pick up a copy of the DVD, head on over to BigfootRoadtrip.com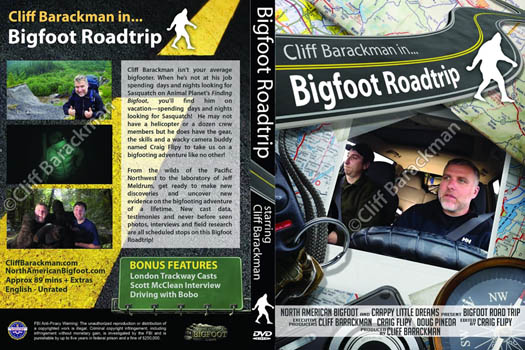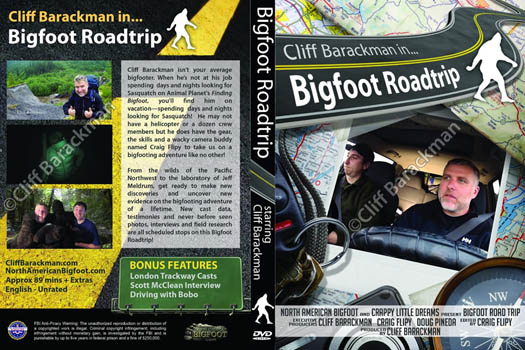 About Lyle Blackburn

Lyle Blackburn is an author, musician, and cryptid researcher from Texas. His investigative cryptozoology books, such as "The Beast of Boggy Creek," "Beyond Boggy Creek," and "Lizard Man," reflect his life-long fascination with legends and sighting reports of unknown creatures. During his research, Lyle has often explored the remote reaches of the southern U.S. in search of shadowy beasts said to inhabit the dense backwoods and swamplands of these areas.
Lyle has been heard on numerous radio programs, including Coast To Coast AM, and has appeared on television shows such as Monsters and Mysteries in America and Finding Bigfoot. Lyle is also a writer for the monthly horror magazine, Rue Morgue, and was recently featured in the documentary film, Boggy Creek Monster.
For more information, visit Lyle's website at: www.lyleblackburn.com