Posted by: Nick Redfern on April 28th, 2012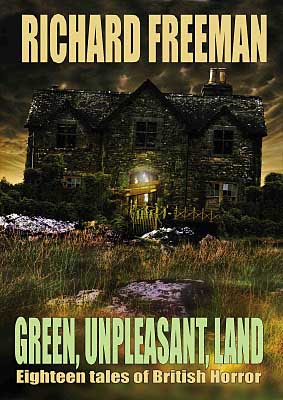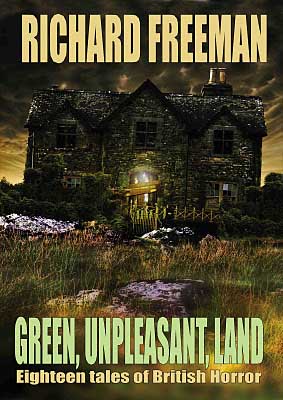 Time for my second book-review for Cryptomundo. And it's a very good one!
If you're a fan of cryptozoological fiction, then look no further than the excellent new book from the Center for Fortean Zoology's Richard Freeman: Green, Unpleasant Land: Eighteen Tales of British Horror.
There aren't that many people within Forteana who can successfully cross over from fact to fiction – and vice-versa – but Richard does a fine, entertaining and atmospheric job in the pages of this, his first collection of short stories, many of which are of a definitively monstrous nature.
Richard makes it clear from the outset that he's hardly a fan of what passes for horror-fiction today (whether in books, on TV, or up on the big-screen), and so that's why he aims to rectify the situation with this particular collection. And, I have to say, he's done a very good job of it, too.
These are most definitely the sorts of tales of terror best devoured on the proverbial dark and stormy night. And, if you happen to be sitting by a roaring fire in a spooky, old house at the time – well, all the better!
As for the crypto-themed stories – which will, of course, be of primary interest to the readers of Cryptomundo – they include (A) a sinister story that mixes centuries-old folklore, creepy woods, and a mighty dragon; (B) the atmospheric saga of the Beast of Bodmin Moor (but with a twist!); (C) a magical account involving a Unicorn; (D) the unsettling tale of a British Bigfoot and its fear-provoking presence in old woodland; (E) and my favorite, which is titled The One That Got Away. If you think the Loch Ness Monster is a formidable beast of British waters, then read and learn about the terrible thing that lurks in a picturesque Welsh lake and the sacrificial secrets that surround it.
And there is, I'm pleased to say, much more, too – including fine stories of "The Walker on the Winds;" a British Phantom Black Dog; and ominous "Earth Hounds."
In addition, each story is excellently illustrated by Shaun Histed-Todd, whose amazing style is superbly suited to Cryptozoology and Forteana.
So, if you are looking for a great selection of cryptozoological fiction – but one that pays deep homage and respect to Cryptozoology in the real world, and that's written by someone who knows his subject matter very well – then Richard Freeman's Green, Unpleasant Land is most definitely the one for you.

About Nick Redfern
Punk music fan, Tennents Super and Carlsberg Special Brew beer fan, horror film fan, chocolate fan, like to wear black clothes, like to stay up late. Work as a writer.