Posted by: Nick Redfern on July 19th, 2013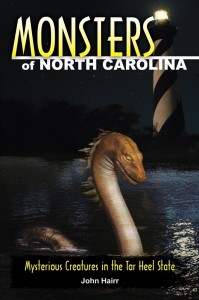 "Interested in terrifying tales of Bigfoot? How about giant and monstrous snakes? Maybe legends of mermaids and mermen fascinate you. Or, perhaps, lake monsters and sea serpents are your thing. Well, if one, or even all, of the above beasts of a cryptozoological nature grab your attention, then you won't want to miss the new book from John Hairr: Monsters of North Carolina: Mysterious Creatures in the Tar Heel State.
"Monsters of North Carolina is published by Stackpole Books, who are putting out an entire series of Monsters of… books. Titles already available cover Illinois, Maryland, Massachusetts, New Jersey, New York, Pennsylvania, Virginia, West Virginia, and Wisconsin. And given how many US states there are, it's a sure sign there are many more books to come in the series."
That's how I start my latest article (or, in this case, a review) at Mysterious Universe. This is an excellent regional crypto-title that I definitely recommend. The people at Stackpole are sending me copies of other titles in the series, so expect a few more reviews in the near future…

About Nick Redfern
Punk music fan, Tennents Super and Carlsberg Special Brew beer fan, horror film fan, chocolate fan, like to wear black clothes, like to stay up late. Work as a writer.