Posted by: Nick Redfern on March 2nd, 2013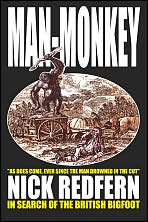 "Brother Truth" reviews my 2007 book, Man-Monkey: In Search of the British Bigfoot, and notes in part:
"I have to be honest and say that I have a particular interest in this title, because it details many cases from my home-town – which always makes a book more interesting, that said, I genuinely think this one trumps all others for well researched and well presented information. We are never going to know the whole truth about the Man-Monkey, but armed with Redfern's research, you will certainly be in a better position to construct theories. A diabolical masterpiece."

About Nick Redfern
Punk music fan, Tennents Super and Carlsberg Special Brew beer fan, horror film fan, chocolate fan, like to wear black clothes, like to stay up late. Work as a writer.