Posted by: Nick Redfern on May 1st, 2013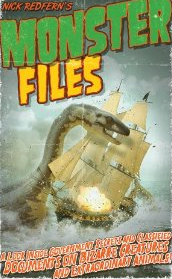 Although my new book, Monster Files, is not published until May 22, copies are starting to surface already. Rich Reynolds, of The UFO Iconoclast(s), has done 2 posts on the book:
1. The first post is a review of Monster Files;
2. The second post from Rich is based around what I have to say in the book about the notorious Flatwoods Monster escapade of 1952.
Book Description:
Does the Pentagon have the body of Bigfoot on ice?
What is the U.S. military hiding from us about lake monsters?
What is the link between the CIA and the abominable snowman?
Why is there a British government file on sea serpents?
What do the Russians know about animal ESP?
For decades there have been persistent rumors, tales, and legends that government agencies all around the world have been secretly collecting and studying data on bizarre beasts, amazing animals, and strange creatures.

About Nick Redfern
Punk music fan, Tennents Super and Carlsberg Special Brew beer fan, horror film fan, chocolate fan, like to wear black clothes, like to stay up late. Work as a writer.