Posted by: Nick Redfern on May 26th, 2012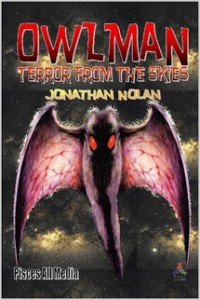 Probably the closest thing that the UK has to the legendary Mothman of the United States, the Owlman is a glowing eyed, winged nightmare that has certainly obsessed more than a few researchers in their time, and reportedly nearly scared to death more than a few witnesses to its beastly actions, too.
Its abode is Mawnan, Cornwall, and the tale of the creature easily rivals that of Mothman – even though Point Pleasant's most famous resident is, of course, far more well known.
But, for those who – like me – find the Owlman saga as fascinating as it is controversial, you may want to have a good read of Robert Guffey's article Cryptoscatology, which was published in the pages of Fortean Times in March of this year, but which is now online at the magazine's website.
In the article, Guffey talks about the curious saga of the Owlman and painter and surrealist Max Ernst, who happened to die in 1976; the very year in which the Owlman surfaced. The Ernst-Owlman angle is not a new one, but I mention it because Guffey provides a good, concise, and thought-provoking commentary on the link in his article that many may not be aware of.

About Nick Redfern
Punk music fan, Tennents Super and Carlsberg Special Brew beer fan, horror film fan, chocolate fan, like to wear black clothes, like to stay up late. Work as a writer.