November 13, 2012
An Adventure of the Yeti Kind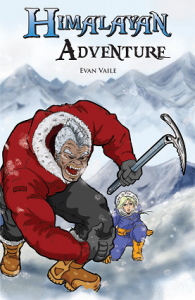 If crypto-fiction is your thing, maybe this new book from Evan Vaile, Himalayan Adventure will appeal, about which we're told…
"Tom Burnmaster, noted mountain climber and zoologist, doesn't believe in yetis. But that changes when he receives an envelope containing a yeti tooth, and an invitation to join an expedition to the Himalayas to search for the mysterious creature.
"Burnmaster agrees to go. Isabelle, a 14-year-old girl from London with an eye for a great adventure, convinces him to let her tag along.
"Their expedition will not be searching alone. The North Koreans, who want yeti DNA for military purposes, send three genetically-engineered commandos to Nepal to obtain the yeti tooth – half gorilla, half human super-soldiers with enhanced abilities and hearts of stone.
"But yetis aren't the mangy, dim-witted apes that everyone expects. The Himalayas are their territory, and they know the humans are coming…"

About Nick Redfern
Punk music fan, Tennents Super and Carlsberg Special Brew beer fan, horror film fan, chocolate fan, like to wear black clothes, like to stay up late. Work as a writer.
Filed under Abominable Snowman, Books, Cryptofiction, Cryptozoology, Lair of the Beasts, Yeti