Posted by: Rick Noll on November 8th, 2005
(System of a Down – Mr. Jack)

Mike Martin and a friend of his got out of the truck and introduced themselves. Approaching us he asked if we were here about the Bigfoot tracks. We said yes and then came right out and said that he believed he saw a Bigfoot not too long ago nearby. I got my notebook back out and began to write down his report –
Thursday (9:15 – 9:30PM) January 22, 1976 – Mike Martin, age 22, pulled out of his driveway, at a very slow speed when he saw something standing on the right of the drive, about 6'8" to 7' tall, in the trees. His headlights hit it as he passed by, so he knew it wasn't his imagination. He became scared because it looked real odd, feral and out of place. He stopped and backed up to where he could turn around to continue observing the animal and watched as it walked deeper into the woods on the left hand side of the drive. It crossed right in front of his vehicle to do so.
It had long arms, blackish brown or dirty hair and took pretty hefty strides. Even with his windows up, he described the smell like "it rolled itself in crap". Its eye's reflected a pinkish color from his headlights. The arms looked like they hung below the knees. The cheeks and bone structure of the face didn't appear to have hair on them. He saw the fingers curl up and flex on the left hand. He expressed no doubt about what he saw and gave us directions to where he saw it… then decided to guide us there.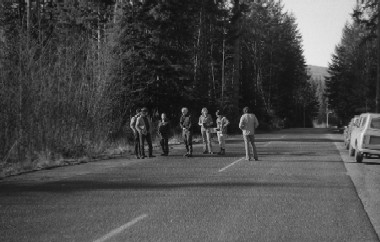 We checked out Mike's property and the adjacent woods and came up with some game trails… but that was about it.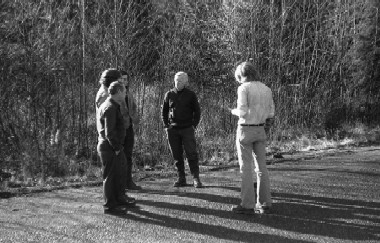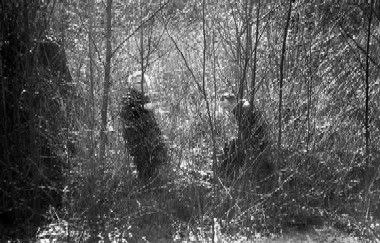 Dave and I drove back up to the track site to cast some of them before it got dark. We left Lynn, Peter and Celia there still talking away.
When we first located the track way, we only counted twenty tracks, 16 of which were only of partial toe impressions. They were in wet sandy soil, maybe 60 hours old (by Lynn's guess). Most of the tracks had only three toes showing. Even the casts that Joe and Jim made sported but three toes.
The track way seemed to be following a well-worn game trail near the rivers edge. Some of the tracks had been washed away by the rise of the river. There were a few dog prints as well.
(Tool– Intermission/Jimmy)
We found a four toed track and took measurements with a simple tape: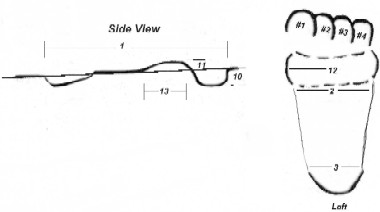 Length – 17.75"
Ball width – 8"
Heel width – 6"
Toe #1 length, R – 3.25"
Toe #2 length, R – 4"
Toe #3 length, R – 3.25"
Toe #1 width, R – 2.25"
Toe #2 width, R – 2.25"
Toe #3 width, R – 2.25"
Kick out depth – 2"
Kick out height – 1.5"
Kick out width – 4.25"
Kick out length – 7.5"
The same data held for the left track with only one toe showing a slight difference. They were weathered so accuracy was at a best guess for most of them. The stride (measured from one track feature to the same feature of the same track in sequence) averaged around 110", but we had only a few examples of that stride since the tracks were old and some had dissappeared. We chose a track to cast and went to work. In no time the plaster was setting.
We waited for what seemed like forever before attempting to lift the cast out of the ground. It promptly broke apart, crumbled in my fingers actually. The ground was so wet and cold, the air so damp and what with using Plaster of Paris is anyone really surprised. Yes that's right, I screwed up the cast.
We noticed that where the others had tried to make their cast – pieces of it were lying around as well. Looks like they had the same problem.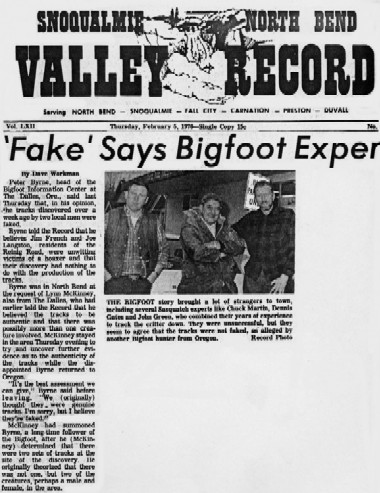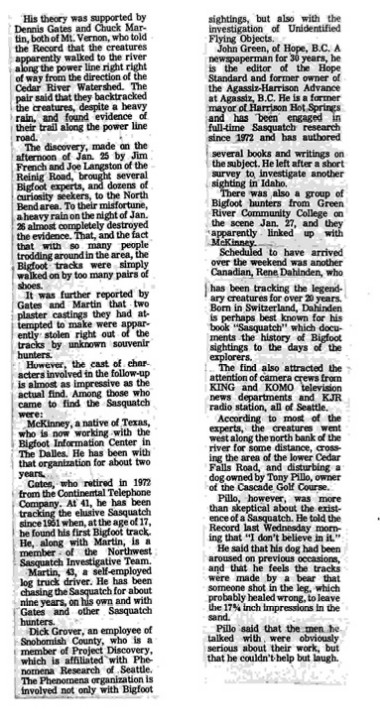 Our group made it back to the area and informed us that Rene was also supposed to come down and look at the tracks. Peter also told us that Mysterious Monsters was going to start showing in town soon and that the High School mascot was a lion and that they had a tan suit with spots on it. He ruled that out as being used as a prank. Never thought to check on something like that… good tip.
We sat up quite late around the campfire discussing the tracks. Peter is pretty sure these tracks are fake but isn't giving us a good reason for his determination. I was with him while he examined them and he didn't point out any one feature for discrediting. In fact both Dave and I wonder if he didn't already have this opinion before he got here.
Peter goes over – that as a group we have to be firm about it and stay as one voice. We all agree and turn in for the night.
I didn't bring up the botched attempt at casting. It was humiliating.
North Bend, Washington, January 28, 1976…
(Kaiser Chiefs – Oh My God)
Next morning, I am the first up and start a fire. I need coffee in the morning and so the ritual begins. My actions disturbs a sleeping Peter…
Breakfast is cereal and milk. We see a small bicycle approach our camp and a boy pulls up wanting to know what we are doing. Peter talks to the youth about looking for an animal that made some tracks here a few days ago. The boy looks very interested and rides over to where Peter indicated the tracks could be seen. He rides back and stops. He says 'If you like those you should take a look up on that hill there, must be hundreds of tracks like these, all different sizes.'
The hill is just a short distance away, under power lines running back down to the river and across it.

About Rick Noll
Rick Noll has been actively searching for the Sasquatch since 1969 and continues his pursuit with extended field trips into the Pacific Northwest's most remote regions. Rick has worked with Peter Byrne, René Dahinden, Grover Krantz, John Green, Jeff Meldrum and the BFRO during all this. He helped with many documentaries on the subject including Animal X: The Skookum Expedition and Sasquatch: Legend Meets Science.