Posted by: Craig Woolheater on February 3rd, 2015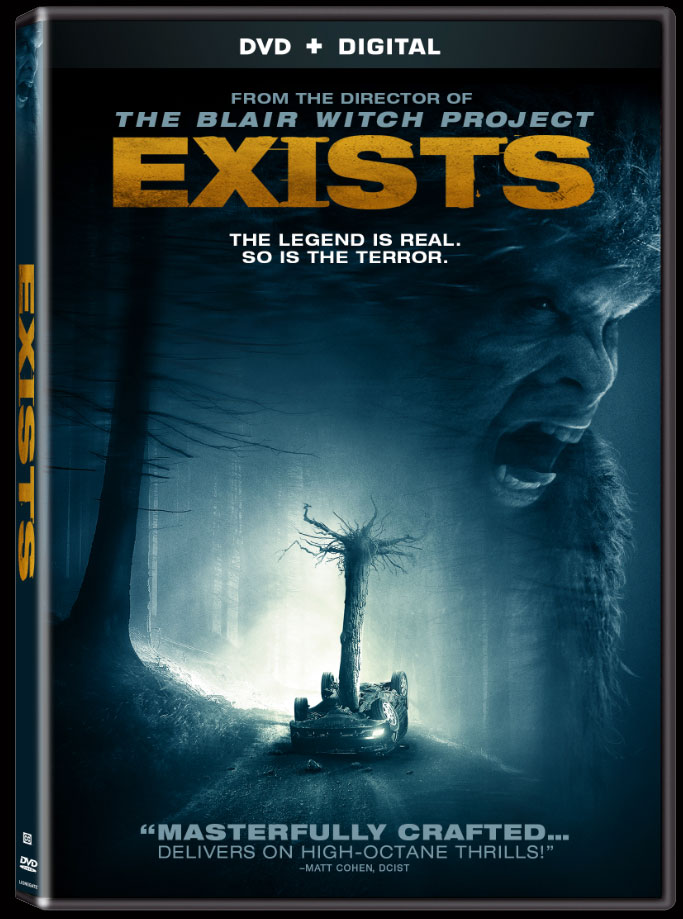 Available at Amazon.con for only $13.99. Order here.
Street Date: 2/3/15
DVD SRP: $19.98
PROGRAM DESCRIPTION
The terrifying urban legend comes to life when Exists arrives on DVD (plus Digital) and Digital HD February 3rd from Lionsgate Home Entertainment. The film is currently available via On Demand. From the director of The Blair Witch Project, Eduardo Sanchez, Exists takes you back to the woods in this first-person account of a legend on a deadly attack. The Exists DVD includes an audio commentary with director Eduardo Sanchez and writer Jamie Nash, deleted scenes and two behind-the-scenes featurettes. The Exists DVD will be available for the suggested retail price of $19.98.
For five friends, it was a chance for a summer getaway — a weekend of camping in the Texas Big Thicket. But visions of a carefree vacation are shattered with an accident on a dark and desolate country road. In the wake of the accident, a bloodcurdling force of nature is unleashed — something not exactly human, but not completely animal — an urban legend come to terrifying life…and seeking murderous revenge.
DVD SPECIAL FEATURES*
• Audio Commentary with Director Eduardo Sanchez and writer Jamie Nash
• "21 Days in the Woods: Behind-the-Scenes of Exists" featurette
• "Bringing Bigfoot to Life" featurette
• Deleted Scenes
*Subject to change
CAST
Dora Madison Burge – Showtime's "Dexter," TV's "Friday Night Lights"
Samuel Davis – Machete Kills, New Hope, TV's "From Dusk Till Dawn"
Roger Edwards – Captain Phillips, Freelancers
Chris Osborn – Enemy of the Mind, Eye of the Tiger, Thrill of the Fright
Brian Steele – Hellboy, Hellboy II: The Golden Army
Denise Williamson – White Rabbit, upcoming Maggie, upcoming Dark Places
Production Info
Studio: LIONSGATE
Release Date: February 3, 2015
Digital HD Date: February 3, 2015
VOD Date: October 24, 2014
PROGRAM INFORMATION
Year of Production: 2014
Title Copyright: Exists © 2013 Exists Partners, LLC. All Rights Reserved. Artwork & Supplementary Materials © 2015 Lions Gate Entertainment Inc. All Rights Reserved.
Type: Limited Theatrical Release
Rating: R for language throughout, some violence, sexual content and drug use
Genre: Horror
Closed Captioned: English SDH
Subtitles: Spanish
Feature Run Time: 81 minutes
DVD Format: 16×9 Widescreen (1.78:1)
DVD Audio Status: English 5.1 Dolby Digital
See also:
Bigfoot Exists on DVD
CryptoCast Archive: Eduardo Sanchez and Exists
Bigfoot Exists for Halloween
Troglodyte Gives Exists Two Non-Opposable Thumbs Up!
Exists: Links for Video on Demand
Cryptologic Radio Archive: Eduardo Sanchez
SasWhat: Exists
Exclusive Exists Clip
Bigfoot Exists and He is PISSED OFF!
Check Out the Bigfoot From Exists
'Blair Witch' Director Eduardo Sanchez Goes Back to the Woods for 'Exists'
Exclusive Exists Clip
Exists Opens on October 24th
Exclusive Exists Clip
Update: Exists Trailer Released!
Exists Trailer Released!
Exists Movie Poster and Release Date Update
Eduardo Sanchez Talks Exists
Bobcat's Willow Creek Rips Off Exists
Another SXSW Film Review: Exists
SXSW Film Audience Award for Exists
SXSW: Lionsgate Acquires Rights to Bigfoot Found Footage Pic 'Exists'
Exists Review, Fresh on My Mind
SXSW Film Review: Exists
Reminder: Exists Screens at SXSW!
Exists sells at SXSW!!!
Exists is One of Most Anticipated Films at SXSW
Exists World Premiere at SXSW!
Eduardo Sanchez wants "Exists" to feel like a feature length Patterson-Gimlin film
Berlin: Eduard Sanchez's Found-Footage Horror 'Exists' Sells Wide
Exists to Screen at SXSW
Exists News
Sexy Starlet Talks Bigfoot Thriller 'Exists'
Bigfoot Exists, If They Exist
Extinct Twinkies Might Have Proven Bigfoot Exists
Forthcoming Film #EXISTS Making Big Tracks
Premiere of Clips for New Bigfoot Film #Exists
New Found Bigfoot Footage Exists
#bigfootexists #existsmovie #eduardosanchez #lionsgate #BlairWitchProject
About Craig Woolheater
Co-founder of Cryptomundo in 2005. I have appeared in or contributed to the following TV programs, documentaries and films: OLN's Mysterious Encounters: "Caddo Critter", Southern Fried Bigfoot, Travel Channel's Weird Travels: "Bigfoot", History Channel's MonsterQuest: "Swamp Stalker", The Wild Man of the Navidad, Destination America's Monsters and Mysteries in America: Texas Terror - Lake Worth Monster, Animal Planet's Finding Bigfoot: Return to Boggy Creek and Beast of the Bayou.