Posted by: Craig Woolheater on August 21st, 2014
We last updated here, Exists Release Dates Finally, that Lionsgate will release Exists on VOD October 3, and then in theaters October 24.
Well, apparently that is not correct.
On October 24th you will finally know: Bigfoot Exists! Eduardo Sanchez is taking us back to the woods for the first time since The Blair Witch Project. See for yourself why SXSW gave us its 2014 Midnight Audience Award. 'Nuff said. For now! 🙂
~ Mark Ordesky – Exists Producer
I verified with Eduardo Sanchez, who had this to say:
Both VOD and theaters on the 24th – good weekend to open.
~ Eduardo Sanchez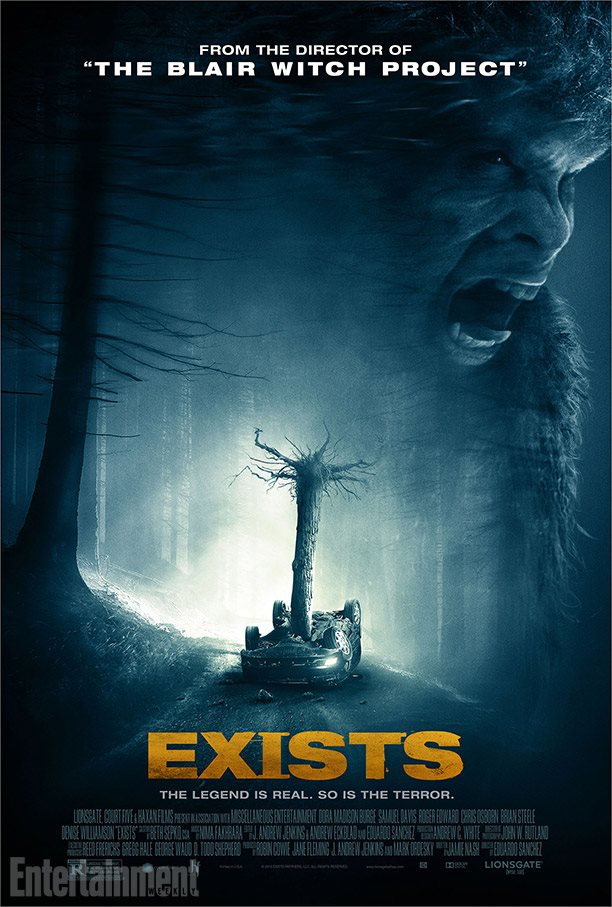 See also:
Eduardo Sanchez Talks Exists
Bobcat's Willow Creek Rips Off Exists
Another SXSW Film Review: Exists
SXSW Film Audience Award for Exists
SXSW: Lionsgate Acquires Rights to Bigfoot Found Footage Pic 'Exists'
Exists Review, Fresh on My Mind
SXSW Film Review: Exists
Reminder: Exists Screens at SXSW!
Exists sells at SXSW!!!
Exists is One of Most Anticipated Films at SXSW
Exists World Premiere at SXSW!
Eduardo Sanchez wants "Exists" to feel like a feature length Patterson-Gimlin film
Berlin: Eduard Sanchez's Found-Footage Horror 'Exists' Sells Wide
Exists to Screen at SXSW
Exists News
Sexy Starlet Talks Bigfoot Thriller 'Exists'
Bigfoot Exists, If They Exist
Extinct Twinkies Might Have Proven Bigfoot Exists
Forthcoming Film #EXISTS Making Big Tracks
Premiere of Clips for New Bigfoot Film #Exists
New Found Bigfoot Footage Exists
#bigfootexists #existsmovie #eduardosanchez #lionsgate
About Craig Woolheater
Co-founder of Cryptomundo in 2005. I have appeared in or contributed to the following TV programs, documentaries and films: OLN's Mysterious Encounters: "Caddo Critter", Southern Fried Bigfoot, Travel Channel's Weird Travels: "Bigfoot", History Channel's MonsterQuest: "Swamp Stalker", The Wild Man of the Navidad, Destination America's Monsters and Mysteries in America: Texas Terror - Lake Worth Monster, Animal Planet's Finding Bigfoot: Return to Boggy Creek and Beast of the Bayou.