Posted by: Dave Coleman on April 4th, 2013
Interview with Ed Raggozino, director of 'Sasquatch, The Legend of Bigfoot' ('77) I conducted for BijouFlix, back in 2005. He talks about how difficult it was to shoot on location such a rugged outdoor picture, and how proud he was to be associated with the film, as it was seen by so many in its era and beyond. Ed passed away a few years back.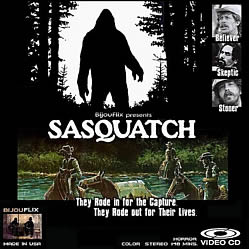 Ed Raggozino, director of the cult-fave Sasquatch, the Legend of Bigfoot, reveals the ardors of shooting in the wilderness to make your Bigfoot flick authentic; having flick fans still seek him out (like we did!) after all these years; and his own belief or not in the Hairy Giant of North American folklore.
Innerview by Dave Coleman
We knew that finding the cast and crew behind Sasquatch, the Legend of Bigfoot was going to be a probable undertaking, but we didn't expect it to be on the order of stalking the elusive critter itself. But with some sleuthing and Mr. Raggozino's patience and the miracle of emails, we now have some insight into the making of what was once one of the most successful independent flix ever released in America.
Though obscure to most who did not see it as children in its original release in the 1970's, for those lucky enough to have hidden behind the seat in front of them during this classic shocker they never forgot just how damn scary a "G"-rated kiddie matinee could be!
BijouFlix: Can you tell us, Ed, how you came to have as your only feature film directing credit Sasquatch?
Ed Raggozino: Directing Sasquatch was kind of one-shot fluke. My training and background is as a theatre director/producer…some 160 productions to my credit. I had a good reputation in the area (Oregon), so they asked me to direct the film.
I remember when Mike Nichols was asked to direct his first film (The Graduate), he said, "I just directed the movie the way I directed theatre, and then told the cameraman to shoot it."
I was recently asked to direct a feature-length film, Puerto Vallarta Squeeze, but turned down the offer knowing that the technology has changed drastically since we filmed Sasquatch.
BijouFlix: Can you tell us something about the producer John Fabian?
Ed Raggozino: John Fabian was best known as a wildlife documentary filmmaker, specializing in field and stream type pictures. I haven't seen John for years. I know he still lives in the area, but I think he's retired.
BijouFlix: The music in Sasquatch is very effective for a low-budget effort. In fact, I think it is part of the reason the flick scared the crap out of so many who saw it in theaters and drive-ins thirty-plus years ago now. Can you tell us something about the composer, and how you worked together?
Ed Raggozino: I secured the composer for the company. His name was Al Capps. He lived in LA and specialized in scoring for film. I don't think he ever had much of a reputation in the business, but, I agree, he did a fantastic job of keeping the audience and the edge of their seats. You might detect a slight similarity to the Jaws score.
BijouFlix: Do you remember the promotional 45 r.p.m. records that were sold in the lobby of most theaters?
Ed Raggozino: You know, I never heard the 45, but remember seeing a copy. Selling stuff in the lobby these days is big business. I've heard that when "Disney on Ice" performs each year, they make more money from concessions that they do from ticket sales. I was recently in a movie house where the popcorn was more expensive than the ticket.
BijouFlix: The 45 rpm was a true collector's item. I had one for years but finally and sadly lost it. I played it for years on my "close and play" vinyl machine until it was scratchy. Say, uh, Ed… do you, uh, have any of those in your closet by any chance?
Ed Raggozino: Sorry, no.
BijouFlix: Damn! Okay, hold on a sec… okay: There are rumors that John Chambers the special effects make-up artist may have used an old LOST IN SPACE ape suit with a new head and worked with Roger Patterson to stage the famed 16mm footage as a hoax. Were you ever aware of such rumors?
Ed Raggozino: The truth is, that the costume is better than the actor who wore it.
BijouFlix: Sasquatch was shot in the rugged mountainous wilderness of Oregon. The isolation captured by the immersion into total wilderness is one of the other reasons I believe this flick worked better in its era and remains believable. The effect is not unlike Deliverance in this regard. What was that like, however, shooting under such harsh conditions?
Ed Raggozino:We spent 6 or 8 weeks in the Three Sisters Wilderness area of Central Oregon. Magnificent country! And very rugged. The area resembles many of the other "sighting" venues. I think the wilderness location is half the film's success. And a real credit to John Fabian's cinematic talent. He was one of the best wildlife camermen of his day.
There were lots of problems filming in that location: in and out clouds that sometimes took hours to find the sun; airplane contrails; film animals; animals breaking loose; traveling with horses sometimes would dictate how much we got done; it was an enormous time consumption to load the horses only to unload them two miles hence. We did not have today's luxuries of trailers, RV's, caterers with hot meals. The company basically traveled in their own cars, which meant long long days starting very early to get the good light and staying late to get the good light. And when you forgot something, it was a long way back to Bend, Oregon. But this area is known the world over for its beauty and majesty.
BijouFlix: Is it true that until we sent you a couple of copies of Sasquatch that you only had an old KTLA airing VHS your son had made for you? I find that easy to believe if true, because we literally get handwritten letters from people are on (and I am only somewhat facetious) a spiritual "quest" to locate this flick. Have you encountered these kinds of fans over the years?
Ed Raggozino: The KTLA story is true. And funny that you should mention the "quest." Just in the last five years I have had inquiries from all over the country about the film. Usually from people in ther late forties who remember the "scare" to this day. And they are all kinds: professional, business, laborers, etc. It wasn't until my second son (now 20) was a junior in high school that he told me, "Dad, you're famous…everybody knows your movie, and I'm famous because I'm your son." I'm still baffled by it's success.
BijouFlix: Do you have any idea in which areas of the country Sasquatch was most heavily saturated?
Ed Raggozino: My instinct tells me that it had its greatest appeal in the heavy urban areas, such as New York, Chicago, and LA, because they have so little contact with wilderness. And I believe that it's univerality lies in the fact that Sasquatch is one of the few remaining "legends" left in the world, along with the Loch Ness in Scotland, the Yeti in Napal, and a few other unknown creatures. And we seem to be proud of ours. God knows what will happen if we ever really find one.
BijouFlix: We want to thank you, Ed, for being patient enough to take a trip down memory lane with Bigfoot and BijouFlix. Any parting words you care to share with your flick's fans?
Ed Raggozino: Dirceting Sasquatch was a great trip for me and has left me with some fun and funny memories. None of us ever thought it would such a hit, and that one day we would have fans. Amazing! The question I am most asked regarding Sasquatch is: do you believe that there is or was a creature called Bigfoot? So, to keep the legend alive, I'm not going to answer that question.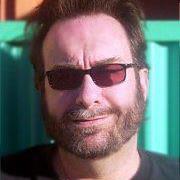 About Dave Coleman
Author of THE BIGFOOT FILMOGRAPHY, a new non-fiction reference guide and critique of Cine du Sasquatch. From McFarland in Fall 2011. Hardbound. Oversized.