Posted by: Craig Woolheater on September 20th, 2013
Last night at about 9 PM, Lyle Blackburn and I set out from DFW for Point Pleasant, WV.
Lyle is a scheduled speaker for the Mothman Festival, and we both will have vendor tables.
If you are planning to attend, be sure to come by and say hi and hang out!
The Man, The Moth, The Legend: Point Pleasant's Mothman Festival Returns!
Every September an invasion occurs in the quaint town of Point Pleasant, West Virginia. No, the invaders aren't visitors from space, but rather car loads of curiosity seekers, paranormal nuts, and Richard Gere fans (yes, they exist) descend upon the town, filling hotels, crowding breakfast joints, and snapping loads of pictures.
Why would so many people congregate in this relatively unknown all-American town, you ask? To celebrate the appearance of a mysterious winged monster half a century ago. That's the strange story behind the 12th annual Mothman Festival.

Since his first appearance in the mid 60′s, the tale of the Mothman has become an iconic piece of American folklore, and an even bigger part of the community that was at the center of the unsolved mystery. For those not familiar with the beast, or the havoc he brought to town with him during a year-long nightmare, here's a quick history lesson:
The first widely circulated sighting of the Mothman occurred during the month of November 1966, when a group of five men diving graves in nearby Clendenin, West Virginia claimed to have spotted a large humanoid flying low over a patch of trees. Days later, the same bizarre creature would again be spotted, this time by Roger and Linda Scarberry and Steve and Mary Mallette of Point Pleasant. The description that the couples gave to the police that evening would go on to become the most iconic imagery of the Mothman to date.
As the two couples drove home that night, they witnessed what they collectively described as a large flying man, with massive wings spanning ten-feet wide, and eyes that glowed bright-red. Much to the couples' horror, the strange creature began following their vehicle down the winding, desolate West Virginia roads. Just as they pulled into town, the beast disappeared back into the night.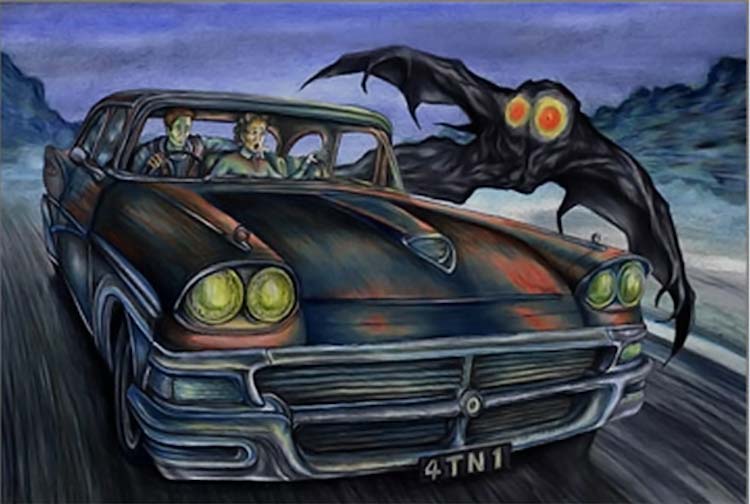 Read the rest of the article at Roadtrippers.
About Craig Woolheater
Co-founder of Cryptomundo in 2005. I have appeared in or contributed to the following TV programs, documentaries and films: OLN's Mysterious Encounters: "Caddo Critter", Southern Fried Bigfoot, Travel Channel's Weird Travels: "Bigfoot", History Channel's MonsterQuest: "Swamp Stalker", The Wild Man of the Navidad, Destination America's Monsters and Mysteries in America: Texas Terror - Lake Worth Monster, Animal Planet's Finding Bigfoot: Return to Boggy Creek and Beast of the Bayou.