Posted by: Craig Woolheater on September 15th, 2016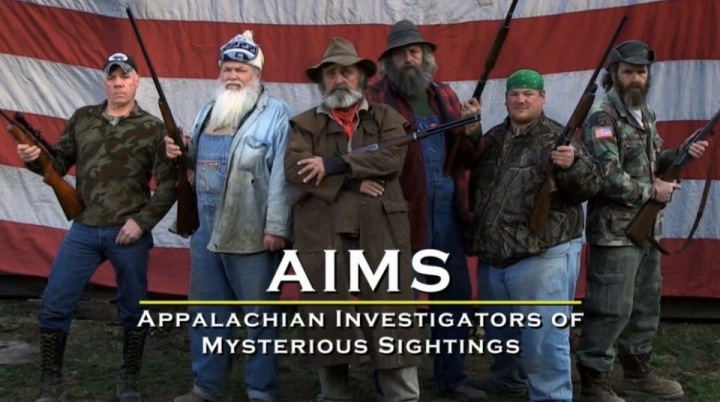 FOR IMMEDIATE RELEASE
September 14, 2016
CONTACT: Charlotte Fletcher, 240-662-3125, Charlotte_Fletcher@discovery.com
The Boys are back in Town! Destination America Renews Hit Series Mountain Monsters For A Fifth Season
(Silver Spring, Md.) – Destination America announced today that MOUNTAIN MONSTERS has been greenlit for season five slated to premiere in Spring 2017. Production begins this month on the monster hit that follows a band of hardcore hunters and trappers, known as the Appalachian Investigators of Mysterious Sightings (AIMS), as they try to prove that Bigfoot exists in hill country.
The fourth season finale of MOUNTAIN MONSTERS on April 16, 2016 ranks as Destination America's #1 telecast ever among HH, P2+, and M25-54 in L+3 delivery. It wrapped up the latest saga in AIMS' ongoing search for Bigfoot – but this time with their fearless leader, Trapper, coaching from the sideline. Fans rallied around Trapper during his recovery from illness and cheered on the rest of the team, Buck, Huckleberry, Wild Bill, Jeff, and Willy, as they continued on their quest – and discovered a new foe in the foothills. AIMS was shadowed by a rogue rival team that closed in on their investigations but had not yet been identified, culminating in a cliffhanger finale with a mysterious attempt to make contact.
"MOUNTAIN MONSTERS fans are about as loyal as they come, second only to the AIMS team and their unwavering dedication to finding Bigfoot," said Jane Latman, general manager of Destination America. "We hear from devoted viewers every single day wanting to know when they'll get to see more of their favorite monster hunters, and we're excited to announce that the wait is almost over."
Nowhere does the mystery of Bigfoot's existence run deeper than in Appalachia where, over the last 10 years alone, AIMS has uncovered evidence that more than a dozen different Bigfoot clans may call the mountain region home. In the new season, they'll investigate new reports of Bigfoot sightings to track and attempt to trap these mysterious creatures.
MOUNTAIN MONSTERS is produced by American Chainsaws for Destination America with Colt Straub, Duke Straub, Royal Malloy, Russell Geyser and Jay Bluemke as executive producers. For Destination America, Cathy Garland is executive producer, Jane Latman is general manager, and Henry Schleiff is group president of Investigation Discovery, Destination America, and American Heroes Channel.
About Destination America
As the only network that celebrates the people, places, and stories of the United States Destination America is an inclusive network targeting Adults 25-54 and is available in 56 million homes. From spine-tingling campfire tales to uncovering history's greatest mysteries, the network's original series showcase the curiosity and adventurous spirit at the heart of being American, with original series like Paranormal Lockdown; A Haunting; Mountain Monsters; Ghost Brothers; Ghost Asylum, and more. For more information, please visit DestinationAmerica.com, facebook.com/DestinationAmerica, or twitter.com/DestAmerica. Destination America is part of Discovery Communications (Nasdaq: DISCA, DISCB, DISCK), the world's #1 pay-tv programmer reaching nearly 3 billion cumulative subscribers in 220 countries and territories.
# # #
About Craig Woolheater
Co-founder of Cryptomundo in 2005. I have appeared in or contributed to the following TV programs, documentaries and films: OLN's Mysterious Encounters: "Caddo Critter", Southern Fried Bigfoot, Travel Channel's Weird Travels: "Bigfoot", History Channel's MonsterQuest: "Swamp Stalker", The Wild Man of the Navidad, Destination America's Monsters and Mysteries in America: Texas Terror - Lake Worth Monster, Animal Planet's Finding Bigfoot: Return to Boggy Creek and Beast of the Bayou.