Posted by: Dave Coleman on April 5th, 2013
'Frogs' ('72) was a Gothic-tinged eco-horror film featuring Ray Milland, Sam Elliott, and Joan Van Ark. As kids, we were outraged there were no scenes of giant frogs devouring humans as the poster had 'promised' us. Still, it's a fun, creepy cult film.
I actually remember my friends and I laughing as kids after this one at the front of the theater where we always sat, but quite seriously so, as we plotted our mass exodus to the ticket booth to demand our 75 cents ticket cost back! "No giant frogs! And this movie sucked!" We were too afraid of being banned from next week's showing of double-billed horrors to actually confront any of the management, naturally! Too big a risk!
Nature takes revenge movies are always fun. Here's a still from 'Frogs' ('72), a creepy little study in Southern oppression and global warming gone awry.
The Thai release poster for 'Frogs' ('72).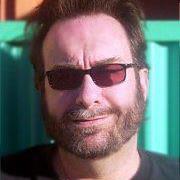 About Dave Coleman
Author of THE BIGFOOT FILMOGRAPHY, a new non-fiction reference guide and critique of Cine du Sasquatch. From McFarland in Fall 2011. Hardbound. Oversized.