Posted by: Dave Coleman on April 3rd, 2013
The reported $12,000 entirety of budget for 'Suburban Sasquatch' clearly wasn't spent on the cryptid costume, but hey, there have been far worse! Not since Patterson Gimlin has a squatch flick had so many day-for-day Bigfoot scenes… nary a night shot in the whole flick!
Woman: "It's not fair! Even male squatches got better racks than me!" :=)
Squatch Energy Drink. Just rip off a limb and gurgle away! From the inevitable 'Suburban Sasquatch' (2004), a one-man wonder from writer, director, editor, producer, special effects man, theme song singer, and creature co-creator David Wascavage.
It's a growing so-bad-it's-good cult fave. I love the scene where Squatch lifts the patrol car and tosses it at gawkers!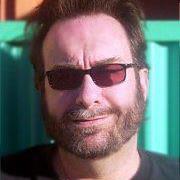 About Dave Coleman
Author of THE BIGFOOT FILMOGRAPHY, a new non-fiction reference guide and critique of Cine du Sasquatch. From McFarland in Fall 2011. Hardbound. Oversized.