Posted by: Dave Coleman on April 4th, 2013
'Primitive' (2011) is a psychosquatchlogical look at Cine du Sasquatch. A special effects artist realizes he is the subconscious harbinger of an evil, inner Bigfoot. When he is threatened, his 'inner squatch' goes ape, unleashing hell on all who oppose his human master's will. The film plays as homage to the 'Night Stalker' t.v. series and 'The Spanish Moss Murders' episode with Richard Kiel as an Id-projected Chicago skunk ape.
The creature costume from the uber low-budget 'Primitive' (2011). Reggie Bannister cameos as the shrink who diagnoses the hero's Morbius Syndrome, wherein the sick protagonist projects his Inner Squatch to kill, kill, KILL any and all who thwart him.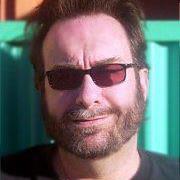 About Dave Coleman
Author of THE BIGFOOT FILMOGRAPHY, a new non-fiction reference guide and critique of Cine du Sasquatch. From McFarland in Fall 2011. Hardbound. Oversized.