Posted by: Dave Coleman on April 19th, 2013
Newspaper ad for original release of Ivan Marx's notorious 'The Legend of Bigfoot' ('76). This amazing crockumentary is a Faux du Sasquatch minorpiece. Marx tours the Pacific Northwest and Alaskan wilderness is his beat-up VW Bug, armed with a 16mm Bolex, his wife Peggy, and a shaggy beast of cryptid costume which he passes off as a 'Cripplefoot' squatch. Essential viewing. Don Peake's score, plaintive and eerie, helps give it a spooky feel at times.
The opening shot of Ivan Marx from 'The Legend of Bigfoot' ('76). Marx plays skeptic in the opening, moaning, "BIGFOOT? I'd had about a belly full of BIGFOOT!" Later he berates such skeptics after showing his blurry, handheld footage aka 'proof' of a Bigfoot he happened to encounter. "The so-called 'experts' tried to dismiss my film as a hoax," Marx scoffs, "what did these so-called 'experts' really know?"
The lumbering 'Cripplefoot' squatch from Ivan Marx's infamous 'The Legend of Bigfoot' ('76). The staggering cryptid's gait bears a remarkable resemblance to Ivan Marx's own often shown walking pattern throughout the film, which involves many long stretches of Marx walking away from the stationary camera.
Ivan was a legit researcher in the early days of cryptozoology, which of course makes his later descent into hucksterism all the sadder.
The Bigfoot close-up photos from Ivan Marx's 'The Legend of Bigfoot' ('76). Marx would once con leading cryptozoologist Peter Byrne promising to deliver 16mm footage of Bigfoot for monies advanced. Marx instead delivered a can of old WB cartoons spliced together. When Byrne went to investigate, Marx and his wife had abandoned their ramshackle home, never to be seen by Byrne again.
I think it's the fact that, yes, there is a social media to 'get' what it's all about before you're 'conned' into something. But of course, you're a willing 'rube' in this scenario, right? I was. I wanted to be bamboozled as part of the obvious charm. In fact, if I didn't feel a bit cheated as a kid watching these films? It was too legit, so I quit it! Only when it had that carny-esque quality of showing you the verboten and then hoodwinking you on even that dubious distinction did I feel this cinema was truly alive and shaping the culture. Today the audience is missing, though, too!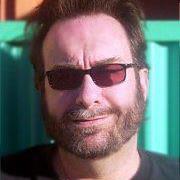 About Dave Coleman
Author of THE BIGFOOT FILMOGRAPHY, a new non-fiction reference guide and critique of Cine du Sasquatch. From McFarland in Fall 2011. Hardbound. Oversized.