Posted by: Dave Coleman on April 9th, 2013
'Evidence' (2011) is a found footage movie featuring a slimy, semi-skunk ape. It's really not a Savage Sasquatch movie, per se, because the film suggests the creature is a DNA experiment gone awry, akin to both the Nutria monster of 'Terror in the Swamp' ('85) or the 'O.X.C.O.M.' genetic military experimental simian hybrid in 'Watchers' ('88). Still, it plays on Cine du Sasquatch conventions and expectations until it takes a turn towards the end.
A camping trip (of course!) is the set-up, but then again, all good horror tales revolve around universal fears. And what is scarier than being in the middle of wilderness nowhere, stalked by a hairy predator? (And no, I don't mean the dude on the left, who is actually clean shaven… at least at the beginning!). From 'Evidence' (2011).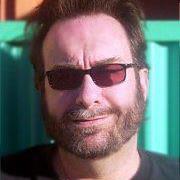 About Dave Coleman
Author of THE BIGFOOT FILMOGRAPHY, a new non-fiction reference guide and critique of Cine du Sasquatch. From McFarland in Fall 2011. Hardbound. Oversized.