Posted by: Craig Woolheater on September 19th, 2013
Every now and then a dataset comes along that just has to be mapped. This is one of those times.
Bigfoot. Sasquatch. Skookum. Yahoo. Whatever you call it, the towering man-like ape is a folklore staple. From stories of Yeti in the Himalayas to Wildmen in the Pacific Northwest, people have been talking about and trying to find the creature for ages. Occasionally, some form of evidence – like Patterson's famous 1967 film – emerges and either feeds our fascination or gets dismissed as a hoax. In either case, it's easy to see why believers search for proof and skeptics remain doubtful.
Through archival work and reports submitted directly to their website, the Bigfoot Field Researchers Organization has amassed a database of thousands of sasquatch sightings. Each report is geocoded and timestamped. Occasionally, even photos and videos of the alleged evidence are included. I'm not quite sure how I stumbled across this, but I'm glad I did.
After crawling the data and converting it to a more convenient format, I mapped and graphed all 3,313 sightings that were reported from 1921 to 2013: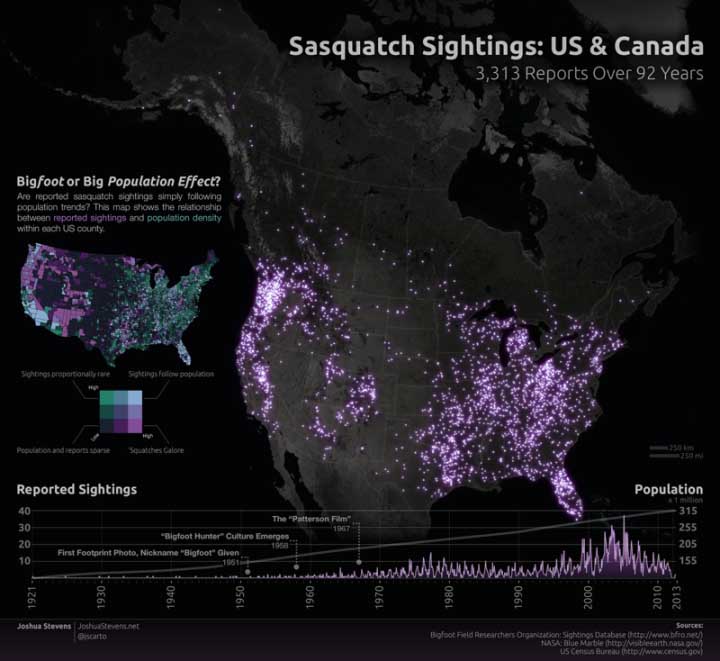 All 3,313 sasquatch sightings reported to the BFRO. Want a larger version? You got it.
Right away you can see that sightings are not evenly distributed. At first glance, it looks a lot like a map of population distribution. After all, you would expect sightings to be the most frequent in areas where there are a lot of people. But a bivariate view of the data (right) shows a very different story. There are distinct regions where sightings are incredibly common, despite a very sparse population. On the other hand, in some of the most densely populated areas sasquatch sightings are exceedingly rare.
Read the entire article here.
About Craig Woolheater
Co-founder of Cryptomundo in 2005. I have appeared in or contributed to the following TV programs, documentaries and films: OLN's Mysterious Encounters: "Caddo Critter", Southern Fried Bigfoot, Travel Channel's Weird Travels: "Bigfoot", History Channel's MonsterQuest: "Swamp Stalker", The Wild Man of the Navidad, Destination America's Monsters and Mysteries in America: Texas Terror - Lake Worth Monster, Animal Planet's Finding Bigfoot: Return to Boggy Creek and Beast of the Bayou.