Posted by: Craig Woolheater on February 15th, 2007
Cryptomundo readers asked in the post yesterday, The Foot of Bigfoot?, whether DNA testing was going to be conducted on this mysterious foot.
Apparently, Virginia Bigfoot researcher William Dranginis is attempting to do this.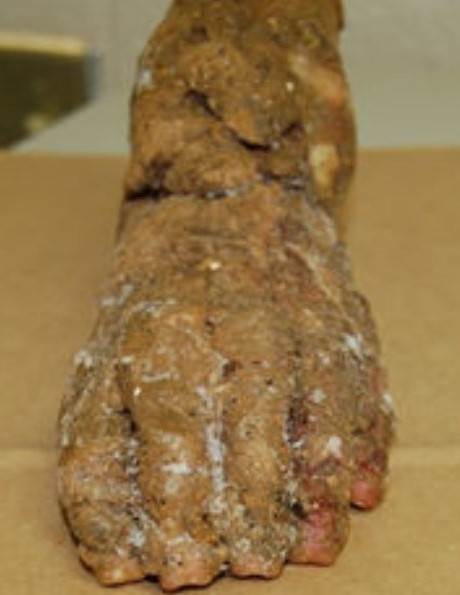 Foot 'looks like bear's hind paw'
BY KIRAN KRISHNAMURTHY
TIMES-DISPATCH STAFF WRITER
Thursday, February 15, 2007

FREDERICKSBURG — The apelike foot found in a Spotsylvania County landfill still has folks scratching their heads.

Spotsylvania Sheriff Howard Smith said yesterday that he plans to send the foot to an as-yet-undetermined expert for further examination. "So we can find out what it is," he said.

Already, word of the find is making the rounds on Internet sites dedicated to Bigfoot sightings and theories.

William M. Dranginis, who operates the Virginia Bigfoot Research Organization, has offered to have DNA samples, if he can obtain them, tested by experts, including renowned primatologist Jane Goodall. Dranginis said he has already made arrangements with Goodall in case an unidentified creature is ever found.

"You prepare for this," he said in a phone interview yesterday.

Goodall has said she is certain Bigfoot creatures exist in nature.

"Dr. Goodall is curious and keeps an open mind on the subject," Nona Gandelman, a spokeswoman for the Jane Goodall Institute in Arlington, said yesterday, adding that Goodall was traveling and not immediately available for comment.

Dranginis, who has viewed photographs of the foot found in Spotsylvania, said it resembles a bear's skinned hind paw. Authorities say the foot, which appeared sawed off above the ankle, is about 8 inches long.

"That would be relatively small even for an adolescent Bigfoot," said Dranginis, who has been on a quest since spotting what he described as a Bigfoot creature in Culpeper County in 1995.

"There's big bucks in bear poaching," said the 48-year-old Manassas man. In Virginia, bear-hunting season runs for specified periods from mid-October to early January, depending on the locality and the weapon to be used.

Authorities initially thought the foot might belong to a human and that it might be evidence of a homicide. Workers found the appendage Saturday afternoon in the treaded tracks of a bulldozer used to move garbage at one of the county's landfills.

Three dozen searchers — sheriff's deputies and volunteers from the fire and rescue departments — sifted through half of a 127-ton load of fresh garbage looking for more body parts.

Authorities halted the search Monday morning after receiving word that the state medical examiner's office in Richmond determined the foot belonged to an apelike species, based on the bone structure revealed through X-rays. At the time, the sheriff said he considered the case pretty much closed unless someone came forward with information.

Yesterday, Smith said he plans to send the foot for testing after it is returned from the medical examiner's office. Arkuie Williams, a spokesman for the medical examiner's office, said officials there are still doing further investigation. He would not say what tests are being performed but reiterated, "It's not human."Kiran Krishnamurthy
The Richmond Times-Dispatch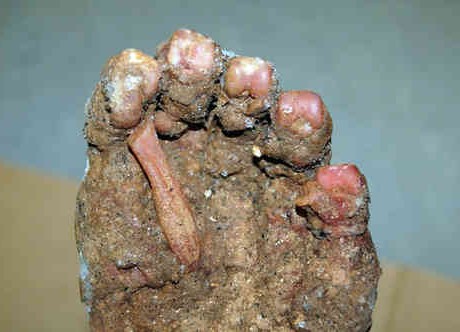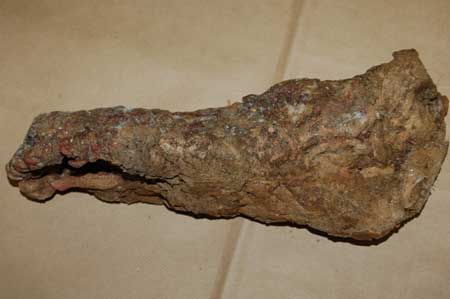 About Craig Woolheater
Co-founder of Cryptomundo in 2005. I have appeared in or contributed to the following TV programs, documentaries and films: OLN's Mysterious Encounters: "Caddo Critter", Southern Fried Bigfoot, Travel Channel's Weird Travels: "Bigfoot", History Channel's MonsterQuest: "Swamp Stalker", The Wild Man of the Navidad, Destination America's Monsters and Mysteries in America: Texas Terror - Lake Worth Monster, Animal Planet's Finding Bigfoot: Return to Boggy Creek and Beast of the Bayou.