July 27, 2012
A Bat-Winged Nightmare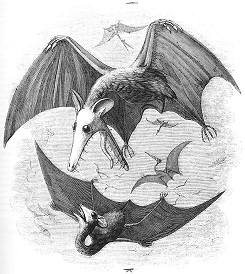 Dr. Karl Shuker, in a new post at Shuker Nature, begins:
"The following winged wonder only became known to me in mid-October 2007, when Jan Patience, acting editor of the now-defunct British monthly magazine Beyond for which I contributed a major cryptozoology article each issue, brought to my attention a truly extraordinary email that she had just received from a reader. At that time, I was preparing a lead article on lesser-known British mystery beasts for the next issue of the magazine, so the email reached me in time for me to investigate it further and include a full account of the case in my article (Beyond, January 2008), and it is this account of mine that I shall now quote from here. The email in question had been sent by Jacki Hartley of Tunbridge Wells, Kent, concerning a truly bizarre beast that she claims to have encountered on three totally separate occasions…"
And here's the full, creepy story…

About Nick Redfern
Punk music fan, Tennents Super and Carlsberg Special Brew beer fan, horror film fan, chocolate fan, like to wear black clothes, like to stay up late. Work as a writer.
Filed under Avian Mysteries, Cryptozoology, Eyewitness Accounts, Forteana, Lair of the Beasts, Winged Weirdies