June 13, 2014
The Partridge Creek Monster – A Living Dinosaur in the Yukon?
The Arctic wastelands of the Yukon Territory, on the borders of Canada and Alaska, are surely the last place anyone might expect to meet a dinosaur – which is why the following case merits a prominent place among the dubitanda of cryptozoology. The extraordinary tale of the beast from Partridge Creek debuted on 15 April 1908, within the pages of a French journal called Je Sais Tout ('I Know All'), and was recounted by one of the creature's eyewitnesses, French traveller Georges Dupuy. According to Dupuy, the adventure had begun one day in 1903, when a banker from San Francisco called James Lewis Buttler and a local gold prospector named Tom Leemore were hunting three large moose amid the marshy tundra countryside near the Yukon's Clear Creek, about 100 miles east of Dawson City. Suddenly, they came upon the tracks of an enormous, monstrous beast, and after tracking it they eventually discovered the true horror of what had made them.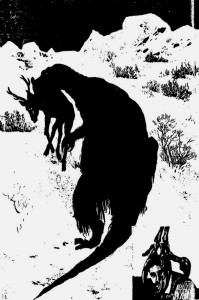 Black in colour, at least 50 ft long, and estimated to weigh about 40 tons, their horrific visitor seemed mercifully unaware of its terrified human eyewitnesses' close proximity. When it was about 200 paces away, it paused for 10 minutes or so, furnishing them with ample opportunity to observe it at close range in all its spine-chilling glory. Although profusely splattered with thick mud, its hide could be seen to bear many coarse, grey-black bristles like those of a wild boar, and a hideous mass of blood and saliva oozed from its cavernous jaws. Most remarkable of all, however, was the rhino-like horn perched prominently if somewhat incongruously near the end of its snout.
Further details can be accessed here on my ShukerNature blog.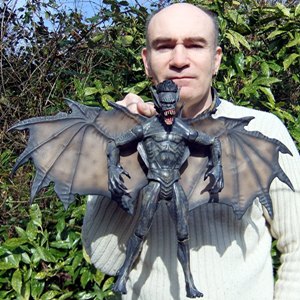 About Karl Shuker
My name is Dr Karl P.N. Shuker. I am a zoologist (BSc & PhD), media consultant, and the author of 25 books and hundreds of articles, specialising in cryptozoology and animal mythology. I have a BSc (Honours) degree in pure zoology from the University of Leeds (U.K.), and a PhD in zoology and comparative physiology from the University of Birmingham (U.K.). I have acted jointly as consultant and major contributor to three multi-author volumes on cryptozoology and other mysterious phenomena. I am the Life Sciences Consultant to The Guinness Book of Records/Guinness World Records (Guinness: London, 1997-present day), and was consultant to Monsters (Lorenz Books: London, 2001), as well as a contributor to Mysteries of the Deep (Llewellyn: St Paul, 1998), Guinness Amazing Future (Guinness: London, 1999), The Earth (Channel 4 Books: London, 2000), and Chambers Dictionary of the Unexplained (Chambers: London, 2007). I appear regularly on television & radio, was a consultant for the Discovery TV series Into the Unknown, and a question setter for the BBC's quiz show Mastermind. I am a Scientific Fellow of the Zoological Society of London, a Fellow of the Royal Entomological Society, a Member of the Society of Authors, and the Cryptozoology Consultant for the Centre for Fortean Zoology (CFZ). I have written articles for numerous publications, including Fortean Times, The X Factor, Paranormal Magazine, FATE, Strange Magazine, Prediction, Beyond, Uri Geller's Encounters, Phenomena, Alien Encounters, Wild About Animals, All About Cats, All About Dogs, Cat World, etc. In 2005, I was honoured by the naming of a new species of loriciferan invertebrate after me - Pliciloricus shukeri.
Filed under Cryptozoology, Eyewitness Accounts, Footprint Evidence, Giant Cryptid Reptiles, Hoaxes, Living Dinosaurs, ShukerNature, Weird Animal News