Posted by: Nick Redfern on May 7th, 2012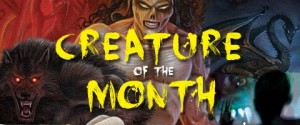 Can the legendary Spring Heel Jack be considered a cryptid? Well, in a new post over at the New Page Books blog – and specifically under their The Creature of the Month section – there's a new article from Dr. Bob Curran (the author of such books as Werewolves and Man-Made Monsters) that addresses the debate surrounding the infamous phenomenon.
Curran notes: "The mid to late 19th century was a time when the working classes of England were finding their own identity and were beginning to look on the upper classes with suspicion. This emerging class struggle can be seen in some of the 'monster figures' of the time – Dracula, Jack the Ripper etc. Was Spring Heel Jack just another personification of this in the working mind – it is interesting that he's always described in aristocratic terms and always preyed on the 'lower classes'. Whatever he was the idea of the bounding, dark-caped figure, breathing fire, perhaps still lurks somewhere deep within the English mind."
Caught your attention? If yes, then you'll want to read Curran's complete blog-post, which is only a click away.

About Nick Redfern
Punk music fan, Tennents Super and Carlsberg Special Brew beer fan, horror film fan, chocolate fan, like to wear black clothes, like to stay up late. Work as a writer.