March 12, 2013
UFOs? Not Nessie-ssarily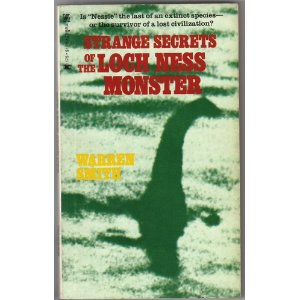 "Is the Loch Ness Monster a species of animal that is not only beyond the reach of identification but also beyond the reaches of this planet? In the latest of our series of articles on 'What is the Loch Ness Monster?, we come to possibly the weirdest one yet."
That's how the latest post from Glasgow Boy begins at the Loch Ness Mystery blog.
He continues:
"The question will naturally arise as to what grounds one would base such a claim upon. I personally have none but we like to look at all theories on this blog whether they are considered respectable or not. However, it was a comment by a reader recently that proved the catalyst for this article. He had said that it was the higher strangeness sightings that he was mainly interested in and this got me thinking for there was a story that was dimly in my memory."
And here's the story GB is talking about…

About Nick Redfern
Punk music fan, Tennents Super and Carlsberg Special Brew beer fan, horror film fan, chocolate fan, like to wear black clothes, like to stay up late. Work as a writer.
Filed under Books, Cryptozoology, Eyewitness Accounts, Forteana, Lair of the Beasts, Lake Monsters, Loch Ness Monster