Posted by: Dave Coleman on April 25th, 2013
Here's one of the more well-remembered moments of cryptid terror from the 1976 effort 'The Mysterious Monsters.' Peter Graves narrates for Rod Serling, who died before producers could record him expanding the CBS documentary that was re-edited and expanded into the feature.
Angry hominids shoving their arms through windows and then standing just outside the door when you throw it open to 'see what's outside' is a very common visual motif from this era. No kiddin'!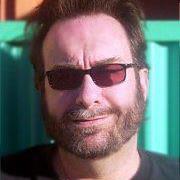 About Dave Coleman
Author of THE BIGFOOT FILMOGRAPHY, a new non-fiction reference guide and critique of Cine du Sasquatch. From McFarland in Fall 2011. Hardbound. Oversized.