December 20, 2018
The Legend of Boggy Creek – Restored, Remastered and Re released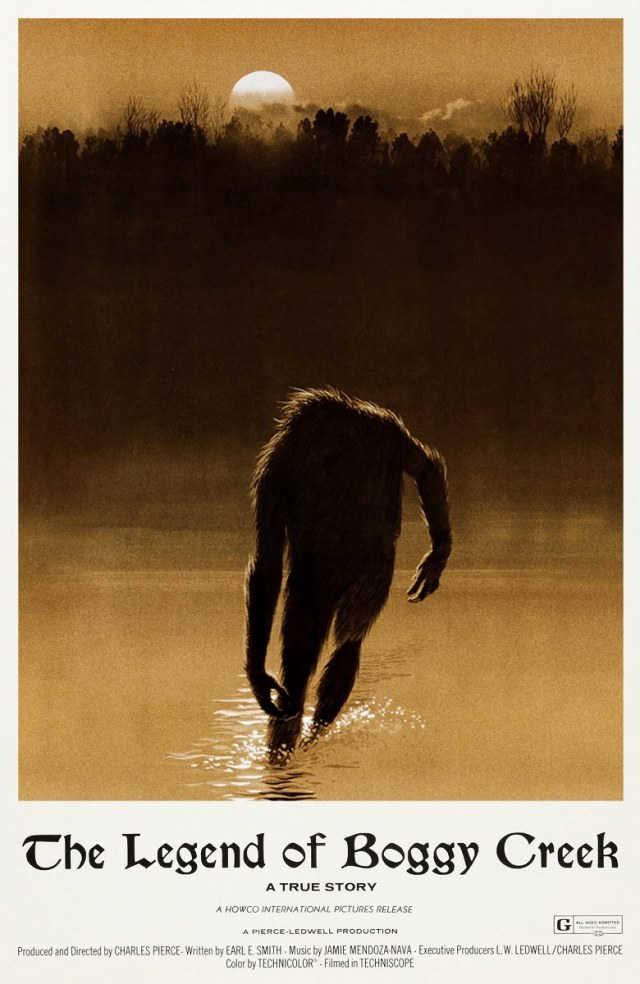 Relive your childhood memories with your friends and family this summer with the tale of a Big Foot-like creature, or as we colloquially know him, the Fouke Monster, in Charles B. Pierce's The Legend of Boggy Creek. The film was recently fully restored and remastered in 4k by Pierce's daughter and is ready for rerelease at the historic Perot Theatre.
Tickets go on sale this Friday, December 21, 2018, at 10:00 AM and can be purchased online, in person at 221 Main Street, or by phone at 903-792-4992.
The legend continues with showings on June 15-16, 2019, at Midnight, 10:00 AM, Noon, 3:00 PM, 6:00 PM and 9:00 PM.
Tickets are $15 per person, ages 13 and up, while tickets for Seniors, Veterans, Students, and children 12 and under are only $12 per person.
Seating is reservation only and everyone must have a ticket to enter the theatre regardless of their age. Buy your tickets now to get the best seats available.
See firsthand what triggered a cult-like following in this "docudrama" style film that conveys swamp life in the 1970's with the lore of a hidden creature that cursed the Texarkana area.
Pierce used witnesses with first-hand encounters of the swamp monster, with only a budget of $160,000 from Ledwell Machinery, later becoming one of the highest grossing films released in 1972.
Now, the film is considered the commencement of the drive-in film presentation, inspiring later films to adapt the same style of storytelling.
The film is rate G and is appropriate for all ages.
(Photo is a ©2018 Pamula Pierce Productions)
Source: Texaekana Gazette
About Craig Woolheater
Co-founder of Cryptomundo in 2005. I have appeared in or contributed to the following TV programs, documentaries and films: OLN's Mysterious Encounters: "Caddo Critter", Southern Fried Bigfoot, Travel Channel's Weird Travels: "Bigfoot", History Channel's MonsterQuest: "Swamp Stalker", The Wild Man of the Navidad, Destination America's Monsters and Mysteries in America: Texas Terror - Lake Worth Monster, Animal Planet's Finding Bigfoot: Return to Boggy Creek and Beast of the Bayou.
Filed under Bigfoot, Bigfoot Report, Cinema News, Conferences, Cryptid Cinema, Cryptozoology, Festivals, Pop Culture, Sasquatch, Swamp Monsters