September 2, 2011
Todd Standing Entertains Finding Bigfoot Cast

We have a Todd Standing double feature at Bigfoot Lunch Club. The producers of the TV Show Finding Bigfoot have decided to visit with Todd Standing and look into his claim of having a 10 second video proving Bigfoot. This has intrigued the local media in Alberta. So far two news articles have been written about Todd and Finding Bigfoot.
In our first Post we ask, Why Don't Journalist Just Google Todd Standing?" We did, and then shared the results of Google's auto complete feature. It's a well known feature of Google. Start typing in a search, and Google offers suggestions before you've even finished typing.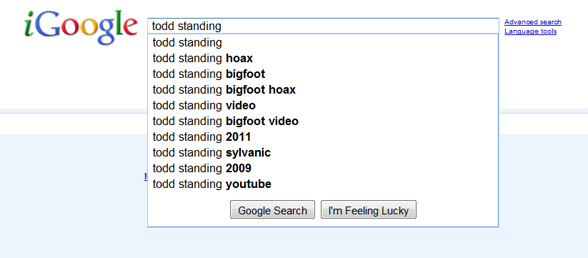 What's interesting is the auto complete works differently than a search result page. Its based on what most people type in the search box, as opposed to the highly complex mathematical formula used to produce search results. In other words, when most people search for "Todd Standing" they also type in the word "Hoax". This doesn't mean he's a hoaxer, it just means he is more associated with the word "hoax" then he is with the word "Bigfoot".
In our other post, "Todd Standing 'Entertains' Finding Bigfoot Crew" we are a little more light-hearted. We give Todd credit for producing a better picture of a bigfoot face to the Calgary Sun, then the one he released earlier this year (March 2011). You can see the comparison yourself below.
You can read both posts, including both news articles in full, at the Bigfoot Lunch Club . You can also read our entire Todd Standing Coverage.
This is the first ten minutes of the Bigfoot documentary that was toured around Western Canada by Todd Standing and his crew in 2006 and 2007 to gather signatures for species protection for Sasquatch. All proceeds where donated to local humane societies. The bill was passed by the government of Canada and petition was a success.toddster45
I wonder if Todd takes the Finding Bigfoot cast and crew to Sylvanic?

About Guy Edwards
Psychology reduces to biology, all biology to chemistry, chemistry to physics, and finally physics to mathematical logic. Guy Edwards is host of the Portland, OR event HopsSquatch.com.
Filed under Bigfoot, Bigfoot Lunch Club, Bigfoot Report, Finding Bigfoot, Television