May 17, 2015
Champ Challenge
My group champ search was featured in an article on the Lake Champlain region website:
You probably are aware of "Champ" the legendary sea monster of Lake Champlain, often dubbed the American Nessie, referring to Scotland's Loch Ness Monster. Though no concrete evidence exists, no one has disproved him either. Hundreds of people, spanning several centuries, claim to have seen Champ, though descriptions do vary. Champ has been described as being anywhere from 10 to over 150 feet long. Some sightings claim to have seen humps, some claim Champ is snake-like. Some have seen a horse-like head, while others have seen horns or antlers. The famous Sandra Mansi photograph, taken in the late 1970s, provided a visual view of at least something and experts, who examined the photo, claimed it was not a fake.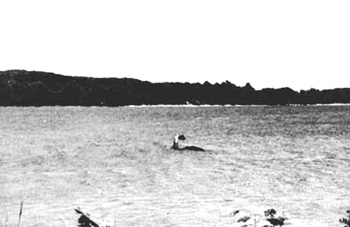 Photo by Sandra Mansi, 1977
Applying Technology
During the 1970s and early 80s, Joseph Zarzynski formed the Lake Champlain Phenomena Investigation. This group made use of observation and sonar explorations in hopes of locating Champ. It is reported that though they did have some interesting sonar "blips," no conclusive proof was produced.
The Mansi photo prompted additional sightings and aroused even more Champ seekers. It attracted the interest of cryptozoologists everywhere. Since then numerous individuals have made it their mission to solve the Champ mystery employing recent developments in technology. Last year, cryptozoologists Katy Elizabeth and Dennis Hall set up Champ Search to investigate the existence of the monster. They speculated that Champ may have a "voice." Animals familiar to us, like bats and dolphins, emit a high pitched frequency, or "voice," to determine the location of objects. This echolocation can be recorded. During the summer of 2014 Katy and Dennis set out to do just that using a hydrophone system. They made an audio recording of distinct clicking sounds that they speculate may have been Champ. Ms. Elizabeth admits that no one knows if Champ could echolocate, but she believes in the likelihood.
Read the rest of the article here.

About Katy Elizabeth
Katy Elizabeth was born in Warwick, Rhode Island. Katy has been studying the existence of Champ since a child. As one of the youngest and most recent Cryptozoologists, she made her life long dream into reality when she had her own sighting and experiences of this elusive creature on Lake Champlain. It prompted her to start her own non-profit group called "Champ Search". The group's goal is to study, investigate and prove the existence of unique animals that inhabit New York and Vermont's beautiful Lake Champlain. She is the author of the books Water Horse Of Lake Champlain and Water Horse Of Lake Champlain II available on amazon.com.
Filed under Champ Search, Champ/Lake Champlain Monster, Cryptozoologists, Cryptozoology, Evidence, Eyewitness Accounts, Lake Monsters, Photos, Pop Culture, Sea Monsters, Sea Serpents