Posted by: Loren Coleman on May 9th, 2011
An Amur leopard at a zoo in Kansas mauled a 7-year-old boy who climbed through a railing into the animal's exhibit.
An innocent zoo trip turned into a horror show Friday, May 6, 2011, when the leopard attacked the child.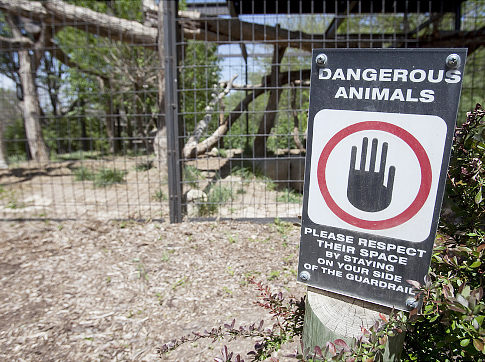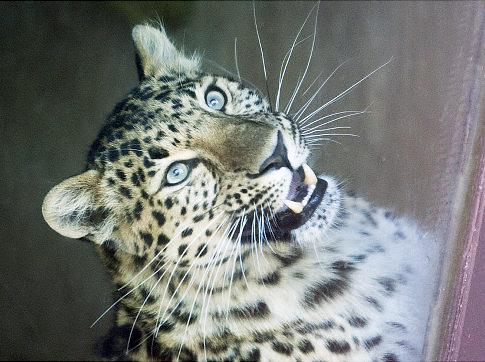 The child was rushed to the hospital and is in fair condition after the four-year-old Amur leopard (pictured above) slashed the boy's head and neck.
Witnesses say the boy scaled the 5-foot railing and approached the animal's cage (seen above) when the beast stuck its paw through the fence and pounced.
If not for the quick thinking of two bystanders, the child may have been killed.
A man and woman nearby hopped over the railing and the man kicked the leopard's head, ending the attack. The boy's head was wrapped in shirts to stop the bleeding.
"He wanted to get a closer look," Naomi Robinson, who saw the incident, told the Wichita Eagle.
"I never heard so much screaming before in my life," Robinson added.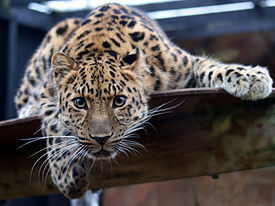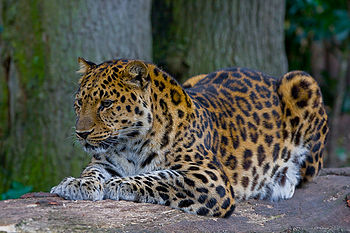 Two Amur leopards in UK zoos.
The Amur leopard (Panthera pardus orientalis), also known as the Manchurian leopard and the Far Eastern leopard, is a wild feline predator native to the mountainous areas of the taiga as well as other temperate forests in Korea, Northeast China and the Russian Far East. It is one of the rarest felids in the world with an estimated 30 to 35 individuals remaining in the wild. The International Union for the Conservation of Nature has deemed the Amur leopard critically endangered, meaning that it is considered to be facing an extremely high risk of extinction in the wild.
The first-grade victim was on a class trip with his Linwood Elementary School class to the Sedgwick County Zoo when the maulting incident occurred.
According to a statement from the zoo, the leopard grabbed the boy with both paws when he entered his habitat. The leopard was responding naturally. The zoo statement said the leopard will be quarantined for at least six weeks.
(There was a new moon on May 3rd, which, along with a full moon, have been associated with animal attacks.)
Sources: 1, 2, 3. Kansas Photos/The Wichita Eagle, Travis Heying.
Loren Coleman – has written 5489 posts on this site.
Loren Coleman no longer writes for Cryptomundo. His archived posts remain here at Cryptomundo.