Bio of Rick Noll

has been actively searching for the Sasquatch since 1969 and continues his pursuit with extended field trips into the Pacific Northwest's most remote regions. Rick has worked with Peter Byrne, René Dahinden, Grover Krantz, John Green, Jeff Meldrum and the BFRO during all this. He helped with many documentaries on the subject including Animal X: The Skookum Expedition and Sasquatch: Legend Meets Science.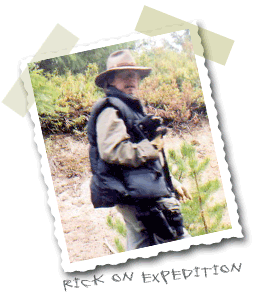 Rick is a periodic guest on Seattle's 107.7 the end radio stations Morning Alternative program with Jennifer White and DJ No-Name. His basic field techniques haven't changed much from the early days, but now he uses more advanced technology and his continuous presence in suitable habitat assures that should evidence appear he will be there to document it. He thinks he has identified some areas where more aggressive behavior has been exhibited by these creatures; they chase people out, scream and yell as well as throw rocks.

Rick always carries a camera with him (OK… and maybe some plaster to cast tracks with too) and will use it to illustrate his finds and the areas he travels to. You can come along on his trips through this blog.
Rick currently works in the aerospace field using advanced technology (digital theodolites and laser trackers) to inspect and build high tech tooling. He worked on the YF-23, B-2 and the new Airbus A380. He has written several training manuals for the equipment he uses and has taught their usage around the world. Rick worked for Boeing as a Quality Engineer and owned and operated a professional photofinishing/camera store.
---