Posted by: Loren Coleman on September 30th, 2008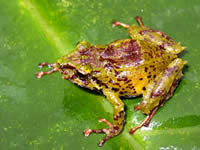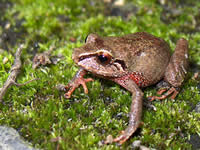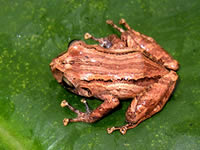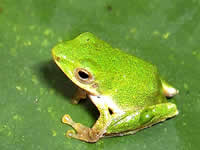 The four new species of frogs discovered in the EcoMinga reserves.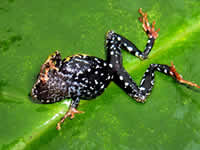 Above: A (dead) harlequin frog. Photos by Juan Pablo Reyes
Herpetologists from the Museo Ecuatoriano de Ciencias Naturales (Ecuadorian Museum of Natural Sciences) have been surveying Ecuador's EcoMinga reserves and have discovered four apparently new species of frogs in and around the reserves.
They estimate that the total number of frog species in the Cerro Candelaria Reserve (EcoMinga's largest reserve, bought with help from the World Land Trust) is around forty.
The herpetologists were especially thrilled to find a surviving population of a harlequin frog (Atelopus palmatus) that was thought to be extinct; this was found near EcoMinga's Rio Zuñac reserve. Their investigations of EcoMinga's reserves were funded by WLT trustee Nigel Simpson.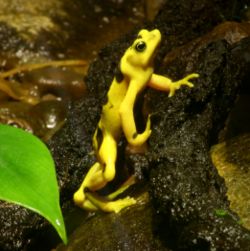 Atelopus zeteki, which is closely related to the rediscovered frog.
Just as a historical aside, WLT took the first camera trap photograph of a mountain tapir (Tapirus pinchaque) at Tapichalaca, Ecuador, earlier in 2008.
The tapir, a wooly species with the feel of the Pleistocene about it, is the largest native mammal in South America and is endangered. It is also a classic animal of discovery within cryptozoology and continues to be so. The species name comes from the term La Pinchaque, a fantastic beast of folklore said to inhabit the same regions as the mountain tapir. The 1829 discovery of the tapir is, I would say metaphorically, another one of those "okapi" moments, but in the Americas during the 19th century.
Sources: World Land Trust; Lou Jost, Fundación EcoMinga; cryptozoology research.
Loren Coleman – has written 5489 posts on this site.
Loren Coleman no longer writes for Cryptomundo. His archived posts remain here at Cryptomundo.