Posted by: Loren Coleman on March 30th, 2009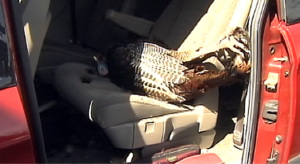 State police say a large flying bird (photographed above) injured a passenger when it crashed through a minivan's windshield Friday, March 27, 2009, near Parsippany, New Jersey.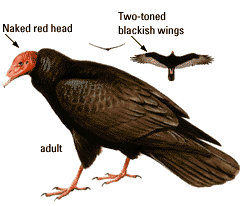 The bird crashed into a red Dodge Caravan at about 8:15 a.m. on Interstate 80. The bird, allegedly identified at the scene as a turkey vulture (Cathartes aura), hit
…32-year-old Vanessa Hurtado in the face, causing minor cuts. Shards of glass got caught in her eye.

The turkey vulture landed in the middle seat behind the driver, 35-year-old Jorge Hurtado, who wasn't hurt. He told police that the bird was alive for a brief time following the crash; the responding officer pronounced the animal dead at the scene.

Eagle Towing (no pun intended) towed the vehicle away. Vanessa Hurtado first asked that the vulture be removed from the car, lest it marinate in the heat.

Turkey vultures, which are not related to turkeys, generally soar in circles on wind currents and are often seen on highway shoulders eating road kill.

This isn't the first time a turkey vulture has left its mark on a New Jerseyan. In June 2004, one hit a motorcyclist in the head. While attempting to get the live bird off of him, the man lost control and struck another car. He died of his injuries.NBC News, New York
Was it a turkey vulture (shown at right below compared to an black vulture)? Even immature vultures of both species are uniformly dark. Look at the photo again of the dead bird in the van.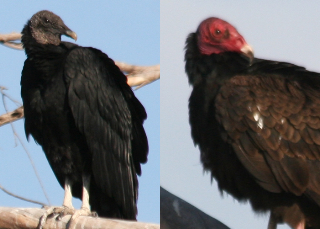 Credit: WhatBird.com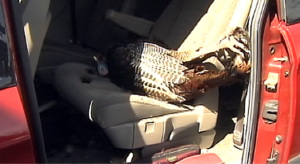 Humm, now notice the distinctive feathers on the bird in the van.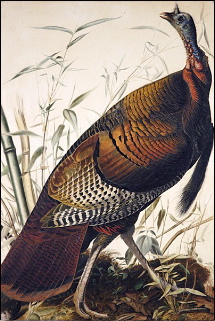 John James Audubon's famed painting of Meleagris gallopavo.

Thank You.
Loren Coleman – has written 5489 posts on this site.
Loren Coleman no longer writes for Cryptomundo. His archived posts remain here at Cryptomundo.