Posted by: Loren Coleman on July 26th, 2009
Indian news services are reporting on Sunday, July 26, 2009, in the Sakaal Times of Pune, India, and in The Hindu of an intriguing example of melanism in a deer.
Needless to say, this may be a rare mutation or a new color morph seen near Coimbatore, India, but it is doubtful, as the article states in the Sakaal Times headline, that it is a "New species of deer spotted." (Since it seems to be a black spotted deer, I am not unaware that the Indian headline writer may have been attempting a bit of a pun here.)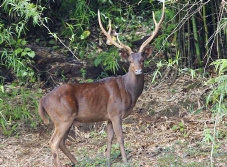 The Hindu photo.
The Sakaal Times article says, in part,
In one of the most interesting developments in the field of wildlife, a rare animal species of spotted deer with black coat has been recorded by the Sanctuary Wildlife Warden recently.

Parambikulam Wildlife Sanctuary [Kerala, India], Warden Sanjayan Kumar said he spotted and photographed this black spotted deer during a field visit on July 19, at Parambikulam range and this might be the first of its kind as therewere no authenticated report or photographs of black spotted deer shot in the wild.

He said "this phenomenon of black coat in spotted deer is presumed to be the same as the occurrence of black (melanistic) colour variant in Black Panther or Black Leopard, the presence of high melanin pigmentation in the hairs and skin.

Melanism is carried by a recessive allele in leopards ( whereas it is carried by a dominant allele in jaguar). As in Black Panther a close examination of the black coat of this rare photographed spotted deer also revealed the typical spots of spotted deer which are still there, but are hidden by the excess black pigmentation."

Kumar also said there was also a possibility that this animal might be a cross between Spotted deer and sambar deer. Only genetic or DNA studies could bring out the facts.

This report of the presence of black spotted deer would definitely generate interest among a large sections of wildlife enthusiasts, wildlife photographers and researchers for further research and study on the melanistic phenomenon in Spotted Deer, he added.

The Spotted Deer or Cheetal (axis), which commonly inhabits the regions of Sri Lanka, Nepal, Bangladesh and India, was the most common deer species in Indian forests.
Source
Loren Coleman – has written 5489 posts on this site.
Loren Coleman no longer writes for Cryptomundo. His archived posts remain here at Cryptomundo.