Posted by: Loren Coleman on June 22nd, 2012
What was the photo editor thinking?
The Bonner County Daily Bee published a short news item on a newly revealed alleged Bigfoot track find, along with a photo of the "cast."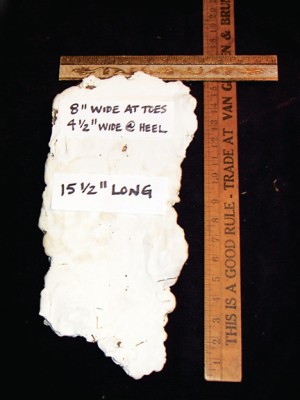 Mysterious impression
A plaster casting of a mysterious print found by Bonnie Thompson 30 years ago. (Courtesy photo)
Unfortunately, the local newspaper merely shows us how to not publish a track photo. They have posted the back of the cast, not the front where we all could make our own assessments of what the track shows.
Supposedly, the track was found 30 years ago, and this plaster of Paris cast was made then.
One wonders about why Ms. Thompson waited so long to show the track to anyone. Perhaps the answer lies in what Jeff Meldrum saw when he looked at the cast.
The newspaper writes:
Several years later, the Spokane Chronicle published a story featuring Grover Krantz, a Washington State University professor who was regarded as a leading authority on bigfoot. Krantz is pictured in the story holding up plaster casts of purported Bigfoot tracks found in the Umatilla National Forest.
Thompson was struck by the similarity of the casts, leading her to believe the same type of creature left them. She said she was compelled to reach out to Krantz, but procrastinated until 2002.
But when Thompson phoned the university, she was advised that Krantz had passed away only hours before she called.
"That was a big lesson in procrastination," she said.
Thompson turned to Jeffrey Meldrum, an associate professor of anatomy and anthropology at Idaho State University who is also considered an expert on Bigfoot.
But she said Meldrum dismissed them as overlapping elk tracks after he reviewed photos of Thompson's casts. Thompson counters that the elk would have to do some fancy footwork to leave such tracks.
If anyone has an image of the front of the cast that they can share, let us know at Cryptomundo.
Bonner County is a county located in the northern part of the State of Idaho.
Loren Coleman – has written 5489 posts on this site.
Loren Coleman no longer writes for Cryptomundo. His archived posts remain here at Cryptomundo.